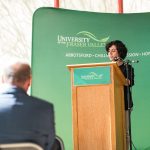 Are you ready to watch UFV professors take on the 2-minute Faculty Microlecture Challenge?
Each year, the Office of Research, Engagement, and Graduate Studies (www.ufv.ca/research) challenges 20+ courageous faculty members to get up on stage and share the exciting highlights or implications of their research in just 120 seconds or less. That's less time than it takes to write a text, brush your teeth, listen to a Beatles song, or microwave a burrito!
So join us over your lunch hour on Wed, Feb 26 (11:30 am-12:30 pm, A225, Abbotsford campus) for a fun, fast-paced event that highlights the interdisciplinary nature of UFV's work and exposes students, staff, and faculty alike to the innovative research happening here.
• Microlectures last about 35-45 minutes
• We encourage you to stick around afterward for discussion and networking
• Check out photos and video from last year's event.
Want to present? Sign up by February 14!
UFV faculty interested in presenting a microlecture (or who have questions about it) should email danielle.mijoburch@ufv.ca with their name, title, department, and research title/topic by Friday, February 14.
Wed, Feb 26
11:30 am-12:30 pm
A225, Abbotsford campus
For more information, contact Danielle Mijo Burch at danielle.mijoburch@ufv.ca
02/26/2020