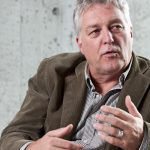 Expert in sustainable communities to speak at UFV Oct 18
Gerben van Straaten believes in a "fundamentally different approach" to sustainable urban development.
Drawing from 28 years' experience in business, economics, and real estate, he travels the world sharing his "radical hope for the power of collective and collaborative efforts around community development" to tackle the Earth's most pressing problems — climate change, poverty, and social injustice included.
 Van Straaten is the founder and CEO of the Netherlands-based World of Walas
He will be speaking on the topic of  "Mission: Earth First" at the UFV Abbotsford campus on Friday, October 18, at 1:15 pm in University House (Building F, Room 124).
Van Straaten founded the Netherlands-based company World of Walas in 2010 amidst an economic crisis. Almost a decade later — 25 companies strong, and with partnerships across Europe, China, Canada, and the USA — World of Walas finds innovative ways to (re)develop struggling cityscapes by looking at the social, cultural, ecological, and financial impacts.
Van Straaten is no stranger to B.C. or the Fraser Valley. He worked with the City of Chilliwack in the mid-2010s to generate ideas on how to re-purpose empty commercial spaces downtown, and owns the Dudoc Vancouver Centre for Sustainable Urban Design and Development.
He is also an active member of the International Earth Charter movement, author of Earth Charter Cities Manifesto, and a signatory partner of the United Nations' Sustainable Development Goals.
"Mission: Earth First" is free, open to the public, and will feature a Q&A session with van Straaten after his presentation.
The event is presented by the UFV Office of Research, Engagement, and Graduate Studies, www.ufv.ca/research
Fri, Oct 18
1:15-2 pm
F124, U-House, Abbotsford campus
For more information, contact Danielle Mijo Burch at danielle.mijoburch@ufv.ca
10/18/2019