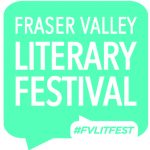 On September 13 and 14 at University of the Fraser Valley's Abbotsford campus,
literary artists and enthusiasts are invited to join in the second annual Fraser Valley Literary Festival.
The Fraser Valley Literary Festival brings together a budding Fraser Valley creative community with the thriving BC writing community. It's for those emerging writers who crave confirmation that writing is happening here. It's for all those CanLit enthusiasts who can't wait to see what the West Coast writes about next.
The UFV English department and Red Press Society are thrilled to present this key regional event for not only writers, but for anyone interested in discovering Canadian literature close to home. By inviting professional authors and their readership to the Fraser Valley, FV Lit Fest will create an engaging and productive atmosphere for writers and readers alike.
Fri and Sat, Sept 13 and 14
7 pm Fri to 4:30 pm Sat
F124 UHouse
For more information, contact Amy Huesken at amy.huesken@ufv.ca
09/15/2019