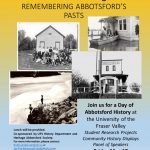 Retro Abby – Remembering Abbotsford's Pasts
The UFV History department, in partnership with the Heritage Abbotsford Society, is hosting Retro Abby: Remembering Abbotsford's Pasts, a day of Abbotsford History on Friday, May 17. Retro Abby will feature displays by local history and heritage organizations, UFV student research projects, and a panel of speakers who will address a number of engaging local historical issues and topics.
Among the organizations participating is the Trethewey House Heritage Site, the Reach Gallery Museum, the Sikh Heritage Museum, the Mennonite Heritage Society, and the UFV Library Heritage Collection.
Our speakers include Kris Foulds (The Reach Gallery Museum), Christina Reid (Trethewey House), Sharanjit Sandhra (Sikh Heritage Museum/UFV SASI), Chad Reimer (Historian and Author), Naxaxalhts'I (Sto:lo Nation Research and Resource Centre).
Lunch and refreshments will be provided!
Fri, May 17
10 am-3 pm
Abby B132
For more information, contact Robin Anderson at robin.anderson@ufv.ca
05/18/2019