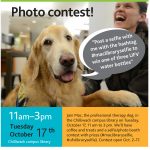 Join Mac, the professional therapy dog, and enjoy complimentary treats at the Chilliwack library's de-stressing day, Tues, Oct 17, from 11 am to 3 pm.
Take a selfie with Mac or a selfie in the library's "photo booth" and post with either #maclibraryselfie or #ufvlibraryselfie to win prizes.
The contest is open Oct 2 until Oct 17, but Mac will only be in the library on Oct. 17.
http://ufvlibrary.blogspot.ca/2017/09/laughing-dog-tuesday-october-17-11-am.html
For more information, contact Lisa Morry at lisa.morry@ufv.ca
10/17/2017