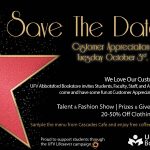 We love our customers!
UFV Abbotsford Bookstore invites everyone to come and have some fun at Customer Appreciation Day!
Tues, Oct 3
Fashion Show at 12 pm & Talent Show at 2 pm
Prizes & Giveaways
20-50% off clothing sale
Sample the menu from the Cascades Cafe and enjoy free coffee all day!
https://www.ufv.ca/bookstore/store-info/bookstore-events/
For more information, contact Ashley Trieu at ashley.trieu@ufv.ca
10/04/2017