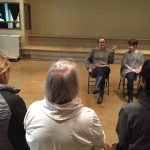 Audition dates: September 13 and 14 from 4 pm to 6 pm
Callbacks: September 20 from 4-6 pm. Callbacks will involve readings of scenes and some small group/pair work.
Performance dates: November 22 – 4:30 pm; November 23 – 11:30 am; November 24 – 11:30 am and  4:30 pm; November 29 – 11:30 am; November 30 – 4:30 pm; December 1, 2017 – 11:30 am, 4:30 pm.
Prepare: A monologue of at least 1-2 minutes in length. Please consider the style of the show in choosing your monologue.
Monologues from the script are welcome and encouraged.
Contact theatre@ufv.ca to request an audition. Please specify if you have a date and time preference.
Location: Abbotsford Campus, room number TBA.
***Please dress in comfortable clothes that will allow you to move. Those auditioning will be asked to fill out an audition form on the day of the audition, outlining previous performance experience and training as well as work, school, and personal schedule between September and November. While all members of the community are welcome to audition, please note that casting priority is given to those enrolled in UFV's theatre program.
UFV students participating as actors in main stage productions will receive practicum credits for their participation. Students may also choose to sign up for backstage or front of house roles and receive practicum credits. Backstage roles may include lighting and sound operators, costume dressers, running crew, and make-up and hair assistants. Questions about backstage roles may be directed to Leigh Kerr at leigh.kerr@ufv.ca
Cast of Characters:
Elena Popova – Young widow, has been mourning the loss of her husband for 7 months. She believes that she is inconsolably bereaved and has vowed to remain lonely and indoors for the rest of her life to teach her late husband a lesson about faithfulness.
Grigory Smirnov – Arrogant landowner who calls on Elena to collect the debt owed to him by her late husband. Smirnov considers himself a misogynist but finds himself infuriatingly charmed by Elena's stubbornness.
Loukas – Servant in the Popova household who finds himself in the midst of the battle between Smirnov and Popova.
http://ufv.ca/theatre/auditions/
For more information, contact Sabrielle McCurdy-Foreman at sabrielle.mccurdyforeman@ufv.ca
09/22/2017