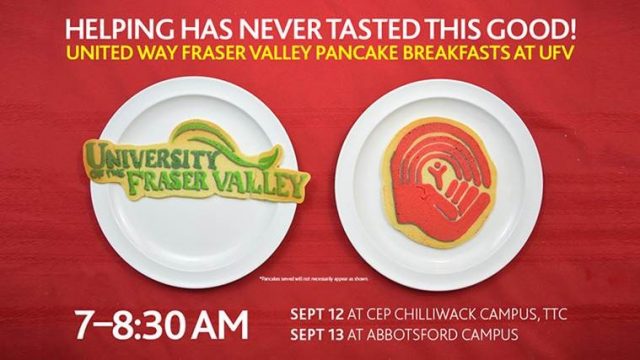 Dear Colleagues,
The United Way campaign for 2016 is about to launch at UFV, marking the 33rd consecutive year of staff and faculty support for the United Way.
We both give personally to this campaign. Will you give, too?
Join us, along with Chilliwack Mayor Sharon Gaetz and Abbotsford Mayor Henry Braun, for the United Way Fraser Valley's free pancake breakfast kickoff events at UFV.
CHILLIWACK PANCAKE BREAKFAST
Monday, Sept 12, 7-8:30 am
UFV Trades and Technology Centre (Building T), Parking Lot 1, 5579 Tyson Road
ABBOTSFORD PANCAKE BREAKFAST
Tuesday, Sept 13, 7-8:30 am
UFV Parking Lot 10, South East side across from the Bookstore, enter off Mackenzie Road
United Way of the Fraser Valley supports more than 25 community partners and programs from Aldergrove to Boston Bar, serving a population of a quarter of a million people. The dollars raised here stay in our community. Each year 1 in 3 people in the Fraser Valley benefit from a United Way program. The United Way aims to build strong communities, help kids be all they can be, and move people from poverty to possibility.
This year's goal is for UFV to raise $25,000 for the United Way. Together, we can do this!
UFV faculty and staff have a proud history of supporting this worthwhile appeal, meeting the challenge of supporting various community agencies via the United Way. Through this campaign, you can designate your gift to a specific United Way agency of your choice, or to any registered charity. You can choose to make a one-time donation, or sign up to give through payroll donations.
If you wish to join us in personally supporting this worthy cause, please complete this fillable pledge form and return it to Human Resources in Abbotsford by Friday, September 30.
As an added incentive, we have assembled some great prizes. All those contributing will have their name entered for the prize draws. And, new this year, the UFV area that has the highest percentage of donors will earn a $1,000 award for a UFV student! Stay tuned for more details on this wonderful opportunity for a UFV student to also benefit from your team's generosity to the United Way.
Thank you, from both of us. We hope to see you at the breakfasts.
Mark Evered                                               Sean Parkinson
President & Vice-Chancellor                        President
University of the Fraser Valley                     Faculty and Staff Association