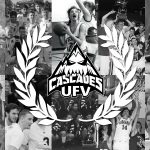 The University of the Fraser Valley athletic department is establishing the Cascades Hall of Fame.
The new initiative will honour inductees in three categories — athlete, team and builder — who significantly contributed to the UFV varsity sports program, and who brought special honour and recognition to the university.
The inaugural class of Cascades Hall of Famers will be inducted during the 2016-17 season. UFV Athletics will begin accepting nominations immediately, and instructions can be found at ufvcascades.ca/hall-of-fame. There is a five-year waiting period from the end of an athlete's or team's tenure at UFV before they would be eligible for nomination.
"UFV Athletics is now into its fourth decade, and the Cascades have a built a tremendous legacy which is worth celebrating," said Steve Tuckwood, UFV's director of athletics and campus recreation. "As a department, we're excited at the prospect of reconnecting with some of our most distinguished alumni and telling their stories to our community and to a new generation of Cascades student-athletes."
Cascades Hall of Fame inductees will be commemorated with a plaque on permanent display in the lobby/mezzanine of the Envision Athletic Centre. They will be invited to campus for an induction ceremony at halftime of a Cascades game, and will receive further recognition at the athletic department's year-end awards banquet. There will also be an online component to the Hall of Fame, featuring photos and video content.
The nomination deadline for the Cascades' inaugural Hall of Fame class is Aug. 31, and inductions are tentatively slated for January 2017.
For more information, contact Dan Kinvig at dan.kinvig@ufv.ca
06/30/2016