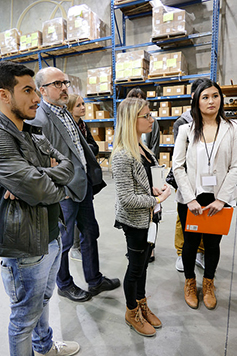 A group of UFV School of Business students recently toured Phantom Screens, a large manufacturer of window and door screens located in Abbotsford. Locally owned and operated, this company has grown to serve distributors in Asia, Australia, the UK, and North and South America.
Organized by the Employer Engagement program, this event allowed students to get first-hand experience of the inner workings of a manufacturing company. The operations manager started the tour by giving an overview of the production floor, where students learned about the process of building a screen and shipping and receiving goods. The tour concluded with a presentation from Phantom Screens CEO Esther De Wolde, followed by a question-and-answer period.
The Employer Engagement program is a School of Business initiative that helps BBA students get in contact with industry professionals before graduation. In addition to planning tours, the program also supports activities such as hosting networking events, connecting with companies in the community, and organizing events that give students the opportunity to explore careers before graduating from UFV.
Two business students, Arzoo Sandhu and Jennifer Trithardt-Tufts, have been hired to work as project managers for the Employer Engagement program, with mentoring from School of Business director Frank Ulbrich. The students work together to organize the events.