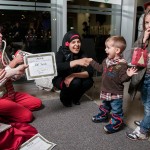 Calling all potential elves!!! We are now recruiting candidates for the highly prestigious Elf University.
The Elf Training Institute is a free, fun-filled holiday event for the all the children of staff, faculty, and students of the UFV community.
Each child will be taken through a series of elf-specific crafts and activities that will allow them to graduate with their diploma in Elfing 302.
Training dates:
Tues, Dec 2
4-6 pm
Abby Uhouse
Thurs, Dec 4
4-6 pm
Chwk A00018
Registration and info: Martin.Kelly@ufv.ca, or at the Uhouse front desk
Registration deadline Tues, Nov. 25.
12/04/2014