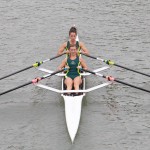 Help UFV Rowing with this terrific fundraiser! It only runs until December 8th. UFV Cascades | Rowing Team
The University of the Fraser Valley Rowing Team is now into its 13th year, and has seen countless athletes go through the program since it's inception. Competing against the nation's best, the team has seen significant successes such as finishing in the top ten at the Canadian University Rowing Championships. The program has even afforded a few athletes to compete at both a provincial and national level. We strongly believe that UFV can work towards becoming a rowing powerhouse that can compete with the very best in Canadian athletics.
With increasing equipment costs, limited financial support, travel costs, ongoing equipment and maintenance costs, and level of training, it is difficult for the athletes to cover all of the expenses on their own. Over the last 13 years, there has been a high amount of wear and tear on the boats, which has unfortunately keeps us a step behind our competitors. We are hoping to build a strong Novice and Junior Varsity program, which will feed into our varsity program, and in order to do so, we need the necessary equipment.
Current University of the Fraser Valley rowing team Fundraisers
Select a fundraiser below to make a purchase for your cause!
www.ufvcascades.virtualfundraising.ca
http://ufvcascades.virtualfundraising.ca
For more information, contact Liz Chisholm at liz.chisholm@ufv.ca
12/07/2013