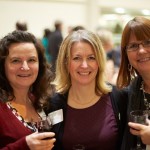 More than 50 alumni and guests came together on Fri, Nov 22 for the 2013 Library & Information Technology Alumni Reunion reception.
The reception was held in Alumni Hall on UFV's Abbotsford campus and featured beautiful music from local harpist Esther Ewert, a silent auction and delicious appetizers and alumni commemorative wine.
Vlad Dvoracek, AVP Institutional Research & Integrated Planning, welcomed alumni to campus and LIBIT department head Kenneth Gariepy shared his thoughts on the role alumni have in the success of the university. Alumni Association board chair Jason Barnes encouraged alumni to stay connected and watch for opportunities to get involved with the 40th anniversary celebrations in 2014.
Alumna Sheila Penner shared her experience with the program and how it prepared her for the career she now has as a Library Technician and Webmaster. Sheila also paid tribute to Pat Sifton, the founder of the LIBIT program at UFV, and highlighted the progress made in growing the endowment award named in Pat's honour. A silent auction benefiting the award raised in excess of $600 on the night.
BCLA President Gwen Bird brought greetings from the association and thanked UFV alumni for their involvement with the BCLA.
See selected photos here or like the Alumni Association Facebook page: http://www.facebook.com/ufvalumni to see all the photos from the evening.
The reception was sponsored and hosted by the UFV Alumni Association in partnership with the Library and Information Technology department.
For more information, contact Helen Hughes at helen.hughes@ufv.ca
12/03/2013