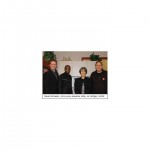 On November 6 the College of Arts, in conjunction with the current development of a major in Peace and Conflict Studies, and in partnership with Selkirk College and the Mennonite Central Committee, hosted Dr. Mulanda Jimmy Juma, senior lecturer at St. Augustine College of South Africa and peacebuilding practitioner, for a public lecture, titled: "Challenges to Peacebuilding in Africa: A Case Study of the DR Congo."
Seventy-five people from the UFV and local communities listened as Juma gave a brief history of the conflicts in the Democratic Republic of Congo from 1996 to the present day and shared from his personal experience the violence that has taken place in this region. He lost many friends and family members in the war, including his younger brother, who was killed during a two-day massacre in his village that claimed over 1,000 lives. One wonders: is it possible for peaceful relationships to emerge from this situation that will stand the test of time?
Juma's work in many African countries provides evidence that peacebuilding is possible amidst the ongoing threat of violence, and that the most effective work in this realm occurs when victims of violence supplant revenge with reconciliatory work. For Juma, the processes of healing and reconciliation involve a challenging sequence. "Deal with your trauma first [and] accept what has happened," he stated, "[then] begin to build your capacity to work toward transformation." Courage is needed here. Juma warned: "[this] is not an easy road…prepare yourself for how you are going to face the challenges non-violently, and step in there and begin to make a difference."
On November 13, Juma returned to UFV to lecture on the details of grassroots peacebuilding in Africa in both a geography class and a political science class. During the class sessions, Juma highlighted some successful examples of peacebuilding work in the DR Congo, focusing on the reintegration of ex-combatants in rural communities. Students expressed keen interest in the effectiveness of this work, which typically escapes western discourse. Undoubtedly, Dr. Juma's visit raised awareness of the complexity of these conflicts, and of the significance of peacebuilding efforts that focus on what is valued, and needed, at the local level.
— Submitted by Steven Schroeder, History department; steven.schroeder@ufv.ca
11/29/2013