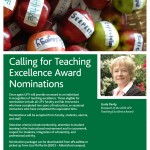 Calling for Teaching Excellence Award Nominations
Once again UFV will provide an award to an individual in recognition of teaching excellence. Those eligible for nomination include all UFV faculty and lab instructors who have completed two years of instruction, or sessional instructors who have completed the equivalent time.
Last year's winner was communications faculty member Linda Pardy.
Nominations will be accepted from faculty, students, alumni, and staff.
Selection criteria include mentorship, attention to student learning in the instructional environment and in coursework, respect for students, integration of scholarship, and professional activity.
Completed nomination packages should be submitted to the attention of Lisa McMartin, Assistant to the University Secretary, Abbotsford campus (B303).
Nomination packages can be downloaded from http://www.ufv.ca/tea or picked up from Lisa McMartin (B303 — Abbotsford campus).
For more information, contact Lisa McMartin at 604-504-7441, local 5114, or Lisa.McMartin@ufv.ca
02/07/2014