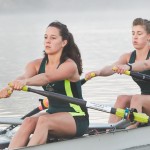 UFV competed in the Western Canadian University Rowing Championships last weekend. Seven schools in the western provinces competed in the race hosted by UBC Thunderbirds and the Burnaby Lake Rowing Club. The participants were University of Victoria, UBC, U of Calgary, Lakeland College, SFU, Camosun College, and UFV.
The Cascades women's team finished third overall garnering two points in the one day race. They were led by Bethany Tait and Kaitlyn Block in the Lightweight Women's 2x, placing 4th in the final. Tait and Block will be heading to the Canadian University Rowing Championships, in Montreal, hosted by McGill University, the weekend of November 1-3.
Emmett Campbell qualified through the heats, to place sixth in the very competitive Lightweight Men's 1x; teammates Scott Micona and Ryan Tucker qualified for the final as well, to place fifth in the men's pairs. This small contingent of the men's and women's teams will be working hard over the next couple of weeks in readiness for the Canadian University's in the Province of Quebec.
For more information, contact David Kent at david.kent@ufv.ca