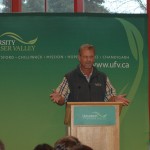 Calling all faculty researchers: Would you like to participate in UFV's 2013 MicroLecture series on Wed, Nov 13?
The Research Office is looking for 20 or more faculty researchers to be a part of the continued success of the UFV Microlecture series. One after the other, you will take the stage for a maximum of two minutes to speak about the exciting findings and implications of your research. The deadline to register as a presenter is Fri, Oct 18.
There's more information online!
http://www.ufv.ca/research/news-and-events/microlecture-series/
Interested in presenting? If you would like to be a speaker at the Microlecture series, contact Linda Dahl at the Research Office. Email linda.dahl@ufv.ca or phone 604-557-4011. Please provide your name, department, and the title of your presentation.
We hope to have at least one representative from each department contribute to this exciting event. If you have presented in the past, we encourage you to participate again with another project or further information from your previous research!