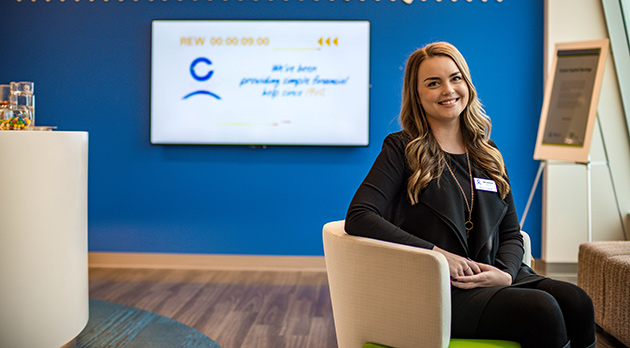 When the bottom dropped out of the oil and gas industry in 2014, Kyla Giesbrecht felt the impact.
She wasn't the stereotypical labourer on the rigs. She was an administrative assistant supporting one of the oil and gas companies, but like many others, she lost her job.
It was time for a career reboot. She returned to British Columbia from Alberta and assessed her options.
"I had strong administrative assistant and office skills, but no credential or piece of paper attesting to my capabilities," she notes. "I wanted to take a program that was short in duration, would expand my employment options, and was not too far from my home in Langley."
She found what she was looking for in the Legal Administrative Assistant (LAA) program offered by Continuing Education at the University of the Fraser Valley at its Clearbrook Centre. "It seemed to tie in nicely with the skills I already had from working," she says. "And I liked that it had multiple intakes a year, so I didn't have to wait to start the program."
During the five-month Legal Administrative Assistant program, Kyla learned how she would apply administrative skills in a legal office environment. She completed the required courses and a two-week practicum, and received job search tips and support from her instructors.
Right after graduation, she landed a job as a legal assistant with the in-house legal department of Coast Capital Savings Credit Union. Her employer has been fully supportive of her continuing her education to become a paralegal.
So back to UFV she went, to enrol part time in the Paralegal certificate program. She's halfway through that now, and enjoying the challenge. The courses are offered mostly online, with one day in class per week.
"It brings us to the next level of legal knowledge and expands the way we can support lawyers and even take on some tasks on our own," she says. "We move into more analysis of legal concepts and issues, and problem solving. There is a lot more research involved than there is as an assistant."
Kyla is now happily settled into a new career, thanks to UFV Continuing Education and the support and guidance she received from her instructors.
"The instructors were very encouraging. A lot of us got jobs through our practicum or very soon afterward," she says. "We also made a lot of strong connections among our fellow students. We're all working in the same industry now and there are lots of networking and information-sharing opportunities.
"I am in my late 20s and had doubted that it was feasible for me to return to school or take time off work to continue my education. Now, I have attained a post-secondary education, and a new job that I really love. I'm very happy with my experience."
Her UFV instructor, Sabrina Ngo, is happy to see her return to pursue studies in the Paralegal program. "Kyla worked diligently in the program and also contributed to strong and positive morale in the classroom," says Sabrina. "I have had the pleasure of watching her analytical mind blossom over the past two school years."
For more information about the UFV Legal Administrative Assistant program, visit ufv.ca/LAA
Working at Coast Capital Savings Credit Union
Coast Capital Savings Credit Union, headquartered in Surrey, B.C., is Canada's largest credit union by membership with over 543,000 members and big plans to expand into new markets. To accomplish its goals, Coast Capital needs the right people and that includes the individuals who work in the legal department to support the business lines by delivering quality work and responsive service.
Over the years the Coast Capital legal department has grown from a single lawyer to a mixed team of eight lawyers and staff, with Kyla Giesbrecht being the newest addition in the role of legal assistant.
"Our team works closely together and our success depends on individuals like Kyla who enjoy the diverse and dynamic nature of the work," says Associate General Counsel Catherine Carter. "Every day is different and requires all of us to be quick on our feet in handling a variety of legal issues and complex projects. Kyla's UFV training, education, and experience all combine to provide her with the necessary skills to multi-task, ranging from litigation support, to corporate work, and file management. Since joining Coast Capital, she's shown that she's got the right balance of analytical and communications skills, a strong interest in the law, plus an awareness and appreciation of Coast Capital, not only from the perspective of its products and services, but also its business and community objectives. It also helps that she shares our priority of bringing
a sense of humour and fun to work every day."
INTERESTED IN HOSTING A PRACTICUM STUDENT?
Call 1-888-504-7441 local 6324 or email continuingeducation@ufv.ca