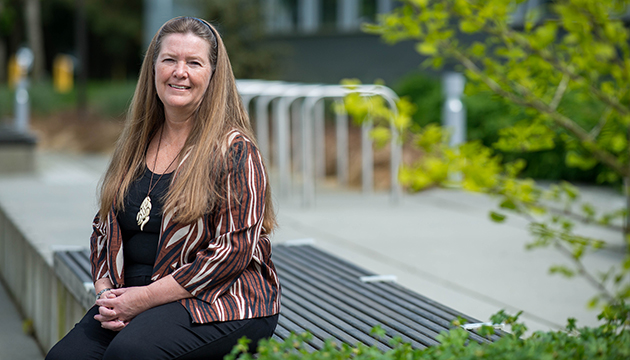 UFV's newest Canada Research Chair believes strongly in the power of communication. Especially when it comes to spreading the word about risk.
Dr. Cindy Jardine took a circuitous educational and career journey to her new post as a Tier 1 Canada Research Chair in Health and Community at UFV. Most recently a professor in the School of Public Health at the University of Alberta, Jardine has also worked for the provincial environment ministries in Alberta, on a Canadian-funded project in Indonesia, as a university research associate in the field of environmental risk management, and for Alberta Health in the area of health research.
Dr. Adrienne Chan, AVP of Research at UFV, is excited about the focus on community health research that Jardine will help create at UFV.
"We are thrilled to have Cindy Jardine join us, as she brings a wealth of experience in dealing with relevant and urgent issues regarding youth, Indigenous peoples, and health risks. She is a respected researcher nationally and internationally. We welcome the opportunity to broaden the base of interdisciplinary work in community health at UFV. Cindy's work in health risk communication with marginalized communities will be timely for us and for the Fraser Valley. She has extensive experience working with diverse and vulnerable populations. Her work is a great example of working with Indigenous communities in a respectful, collaborative way."
It was while working on her doctorate that Jardine switched from a natural sciences-focused exploration of environmental issues to more of a social sciences focus on environmental and health risk communication.
"I was initially drawn to risk communication through my experience working with people who were scared, uncertain, and even outraged about the risks they were facing."
Whether communicating about the risk of pollution or health matters, the underlying approach to her work remains the same.
"We can know all about the science behind a risk, whether it be environmental or health related, or both. But just knowing the science isn't enough. We have to communicate with people in a way that they understand and that enables them to make informed decisions.
"When working with communities, the worst thing we can do is to pathologically look at problems. We also need to look at strengths. It's a question of how we encourage dialogue around topics that make us angry, and then find productive, strength-based ways to address these issues."
This has led to some innovative approaches to risk communication in her research with Indigenous youth and suicide prevention.
She and her associates are working with First Nations and Dene youth to communicate about health risks through participant-led forum theatre, in which audience members take part in the narrative and affect the outcome of the story.  Other types of communications include videos and photobooks produced by Indigenous youth to express their opinions and feelings about health risks.
"Seeing a health risk through children's eyes can have a very powerful influence on behaviour," Jardine notes. "For instance, children have expressed how sad they are when people they love die from lung cancer."
For Jardine, the process of involving people in examining and suggesting solutions to health risks in their community is as important, if not more important, as the final research product.
"We learn a lot along the way, both the researchers and the participants, and are changed in ways that aren't captured in outcomes. The Indigenous youth from the Dene Nation taking part our health communication project gain confidence, leadership skills, and enhanced self-worth through participating."
The formal name for this approach is 'participatory risk communication', through which risk messages and communication processes are developed and conveyed by community members. The overarching goal is to share knowledge amongst different affected parties and to empower people to make informed decisions on risks.
Jardine's Canada Research Chair term is initially for seven years, but is renewable. She will be focusing on three main research projects as she begins Canada Research Chair term at UFV, all funded by the Canadian Institutes of Health Research.
She will continue to work with Indigenous youth on a project focusing on risk communication through participatory media such as videos and photo books.
She will also be working with five Indigenous communities in Alberta and the Northwest Territories on forum theatre projects on the topic of conditions that impede mental wellness.
And she will be collaborating with members of the UFV School of Health Sciences on a project examining ways of improving public health communications with immigrant populations, particularly on the topic of vaccine access and uptake.
Jardine was drawn to UFV because of its strong emphasis on community outreach and partnerships.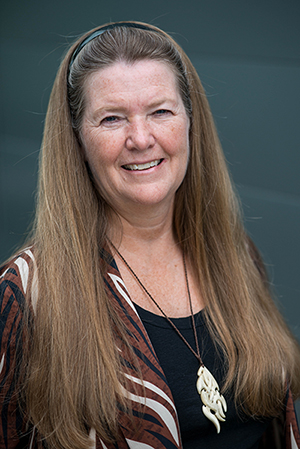 "UFV seems like a really good fit for me. I love the focus on the community. All the research I take on matches well with the UFV philosophy of helping communities find solutions to problems."
While her research will initially build on her current research program and funding proposals, Jardine will also seek to develop new partnerships and relationships with the Stó:lo people and the other demographically and culturally diverse populations of the Fraser Valley. The research will embody the fundamental principles of community-based participatory research, and involve opportunities for undergraduate student researchers from UFV.
The federally funded Canada Research Chair program was established in 2000 with a goal of establishing 2,000 research positions across the country. It is part of a national strategy to prevent the 'brain drain' of Canada's brightest researchers and make Canada one of the world's top nations in research and development.
Jardine's multi-disciplinary education background enhances her ability to research multiple aspects of an issue. She holds a PhD in Medical Sciences (Public Health Sciences) from the University of Alberta, a Master of Science/Engineering from the University of Alberta, and a Bachelor of Science, Honours, from the University of Manitoba.
Jardine has moved to Chilliwack with her husband Errol Billing. She is a motorcyclist, a skydiver with almost 1,900 jumps and several world records to her credit, and an avid knitter.
Save