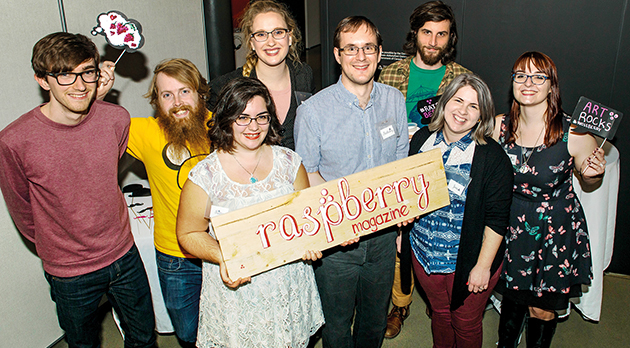 Bands blast, rappers lay down beats, and poets are slamming — all in one night and all in one room. One young woman is in her element, putting herself on the line and reading for  a live audience. It's all part of a fundraising evening organized by the Raspberry collective at the Reach Gallery and Museum in Abbotsford.
Katie Stobbart is one of several entrepreneurial UFV alumni bringing together a fragmented arts culture and boosting the burgeoning arts scene in the Fraser Valley.
Like many of millennial peers, she's taking a DIY approach to her career and volunteer activities, rather than waiting for the fulltime job with benefits to materialize.
In another part of The Reach, artist Shannon Thiesen (UFV's Distinguished Young Alumni for 2016) gives a live painting exhibit demo while video game developers show off their new product.
The UFV content is in abundant supply here. Guests sip local Maan Farms wine and try Ravens Brewing beer (both businesses have UFV alumni connections and are enjoying success). Gallery visitors also sample Mt. Lehman cheese, and peruse the silent auctions for local art and cultural gems.
The reason for the gathering? To raise funds for Raspberry magazine, a local arts and culture publication started by Stobbart and co-founder Anthony Biondi and their friends, mostly UFV alumni who worked on The Cascade newspaper and the Louden Singletree literary magazine during their university days.
They have published ten online editions now and have a dream of bringing their magazine into print. Raspberry is run by volunteers and presided over by the non-profit Red Press Society. They aren't in it to make money or to create jobs for themselves. Their vision is more altruistic.
"As I was growing up and then attending UFV, I was very concerned about the brain drain in the Fraser Valley. There just wasn't enough cultural stimulation to convince young people to stay," she says. "We want to change that."
The energy and impetus behind Raspberry mirrors UFV's mission of changing lives and building community. These UFV alumni are doing just that.
For instance, Raiseberry, the cleverly named fundraising evening, wasn't just about raising money for the magazine. It was also about celebrating art and culture and creating a venue for people to enjoy it in a live setting.
"People are doing cool things all over our community but other people are not necessarily aware of it," says Stobbart. "The arts scene is a bit fragmented and we want to help bring it together."
Raspberry magazine, produced on a monthly basis, publishes previews, reviews, and interviews on the cultural side of the Fraser Valley community. It also features original art and writing from local emerging and established artists.
And the producers of Raspberry gained the skills involved in producing a magazine through their extracurricular activities at UFV, in particular producing The Cascade newspaper.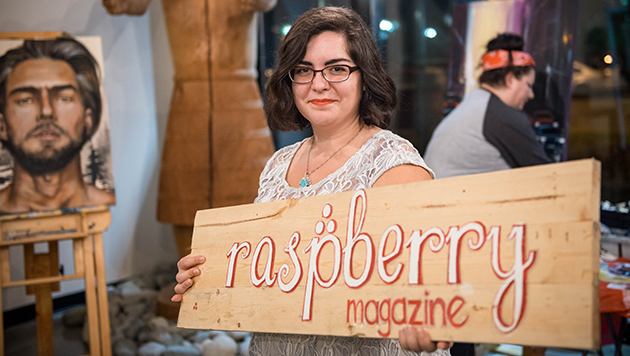 In Stobbart's case, that's where she found "her people" while studying at UFV.
Her first experience in post-secondary was leaving her roots in Abbotsford behind and attending an eastern university with large classes and not much opportunity for connecting with other students.
"It wasn't my style of university," Stobbart recalls. "I had been very involved in the community while in high school and I wasn't finding that there."
So she enrolled at UFV — but struggled at first to find her fit.
"Then I went to a launch event for Louden Singletree, UFV's literary magazine, and signed up to be an editor," she recalls. "I felt empowered. I had been looking for ways to get involved and found what I had been lacking: a community of keeners who also loved writing."
A friendship forged with fellow Louden Singletree board member Jess Wind led to her writing for The Cascade, which led to her becoming staff writer, then copy editor, then editor-in-chief. She also served as president of the English Students Association before graduating in 2015 with an honours BA in English and a focus on creative writing.
While at UFV, she particularly enjoyed honing her writing skills with professors Andrea MacPherson and Trevor Carolan.
Then graduation came and the real world loomed.
"By the end of my degree, I'd developed such a strong community that the idea of leaving it was daunting," she recalls.
Raspberry provides a vehicle for her and her fellow UFV alumni friends to continue to work creatively together and do their part to foster the arts and culture scene.
They've forged connections with The Reach Gallery and Museum, the Jam in Jubilee music series, UFV's CIVL Radio, and the Fraser Valley Music Awards, and hope to be publishing for a long time to come.
Of course, Stobbart also has to pay the bills. Some of the jobs she's held so far include serving as a summer project assistant at Abbotsford's Kariton House, where she organized a member's fair for the Abby Arts Council and a literary panel, and coordinating the Abby Arts Council Arty Awards. She has also worked as a freelance editor and recently presented at UFV's Literary Week on the state of the BC publishing industry.
Stobbart and Jess Wind recently teamed up to form QuiQuill Communications, which offers services ranging from content creation and writing to social media management and marketing.
So she and her cohort are putting the skills they developed both inside an outside the classroom at UFV to work as they transition into their careers.
Raspberry volunteer and former Cascade staffer Sasha Moedt was recently hired as an event planner for the Langley School District, where fellow Raspberrians Anthony Biondi and Nick Ubels also work.
At the Raiseberry evening, Moedt reflected on how UFV experience has helped her post-graduation.
"The skills and experience I gained working on The Cascade and in extra-curricular activities are the main things that job interviewers have wanted to talk about."
Such are the benefits of experiential learning.
Find Raspberry magazine at raspberrymag.ca