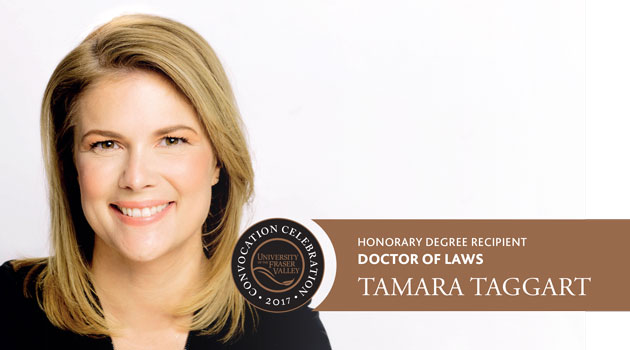 Tamara Taggart had thousands of conversations in living rooms across British Columbia, but it took just two to change her life forever.
It started with a phone call five days after the birth of son Beckett. Tests confirmed the first child for Taggart and husband Dave Genn had Down syndrome.
"The doctor said 'I'm sorry,'" recalls Taggart, the philanthropic co-anchor of CTV's News at Six and 2017 UFV Honorary Doctor of Laws recipient.
"But we weren't sorry to have a beautiful boy. You're holding a brand new baby that you made and love and your responsibility as a parent is to help them meet their best potential. That's all my job is."
Still, that wasn't enough to shore against what Taggart felt was a wave of negativity from some of the medical community.
The couple was told all the things their son couldn't do — how Beckett was more prone to serious disease, that he would be lonely because nobody would want to be his best friend.
"Sometimes all they see is the science, and they don't see the potential that I see in my son."
Two children later she had the second conversation.
Another doctor.
A potentially fatal 10-cm tumour in her small intestine.
Cancer.
Unlike conversations that followed Beckett's diagnosis, people talked about Taggart's cancer with extreme positivity.
"They gave me all the good news, put a positive spin on it."
It was a direct dichotomy to her experience with negotiating medical advice when dealing with Down syndrome.
"We need to know the information when learning a child has Down syndrome, we need to know the risks and challenges. But I don't need to know that off that bat. I need to know kindness and love and empathy first," says Taggart, whose tumour was successfully removed in 2012.
"I'm a firm believer if enough of us care about something, we can create change. And I care enough to change the conversation, which I did every time there was a negative conversation."
Beckett, now 9, has grown into a doting brother to sisters Zoë and Poppy.
"He's perfect," Taggart beams.
Still, she strives to change the conversation. She chairs the BC Women's Hospital 'Hope Starts Here' Newborn ICU Campaign in hopes of helping B.C.'s most vulnerable patients — so far, raising $16 million towards a goal of $17 million.
Taggart also serves on the boards of the Down Syndrome Research Foundation, the Pacific Parkland Foundation, and is chair of the BC Cancer Foundation's Inspiration Gala, helping the BC Cancer Agency raise more than $10 million. If that wasn't enough, she's also an honorary board member at The Kettle Society, is a huge supporter of the Developmental Disabilities Association and the BC Centre for Ability, and is a founding member of the Rare Diseases Foundation.
Taggart was appointed to the Order of British Columbia in 2015 for her volunteer work supporting health care and the well-being of children and people with disabilities.
"I think every person has something to offer. Beckett has his challenges, but he's fantastic. He taught his little sisters to be empathetic and compassionate," she says.
"I think that's someone we can all learn from."
***
Tamara Taggart receives her Honorary Doctor of Laws degree Wed, June 7 at UFV's 9:30 am convocation ceremony inside Abbotsford Centre. The public is welcome to attend.
-30-