UFV Inspirational Leadership award: Liana Thompson brings people-centred approach to leadership role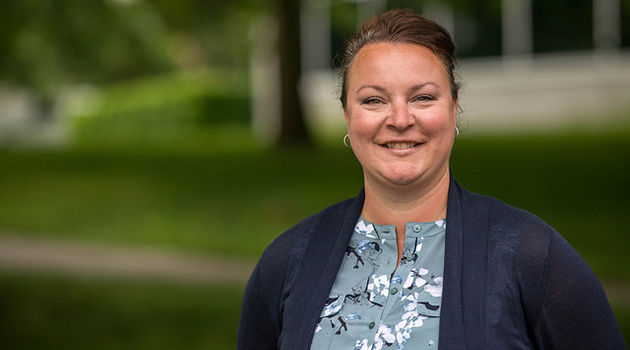 She's been an opera singer, a lifeguard, and bookkeeping instructor.
She is a mountain biker, a mother, and a mentor.
In all of these endeavours, she has been or still is a leader.
And it's that leadership quality that has earned UFV Director of Continuing Education Liana Thompson the UFV Inspirational Leadership Award for 2017.
"I love to be part of positive change," says Thompson. That enthusiasm shines through in the approach she takes with her team of Continuing Education staff and the students they serve.
Thompson has had the kind of twisting and turning career that reflects her curiosity and ability to identify new opportunities.
When she was 18, she was enrolled at UBC in its music degree program, training to be an opera singer. But the isolation and long-term sacrifice required didn't appeal to her, so she switched to philosophy and English studies. Her idea was to become a lawyer, and she was accepted to law school, but then diverted into a job with the Township of Langley when they asked her to be head lifeguard.
There, she found her calling and a 17-year career in recreation management, where she honed her leadership skills.
"I loved that part of my career," she says. "They 'grew me up' and equipped me with my skills. I got the opportunity to lead the Aldergrove facility and focus on the needs of a smaller community."
Along the way, she acquired a human resources management diploma from BCIT, her provincial instructor's diploma, and an MA in leadership from Royal Roads.
Thompson was introduced to UFV and its Continuing Education division when she started teaching night courses in bookkeeping. This led to sessional teaching in the Applied Business Tech program, where she caught the eye of longtime Continuing Education director Cheryl Isaac, who saw her potential and recruited her into the CE manager role. Once Isaac retired, Thompson applied for and moved into the director position.
"I came into the CE team very appreciative of the work that had been done for decades previously," Thompson recalls. "I was very grateful for mentorship of Cheryl Isaac, who preceded me in the role and was part of the founding culture of UFV. I rely a lot on people who have been here a long time who cheerfully help me build my practice. I may be asking how we could do things better or differently, but I want to bring the best of what is already in place along. One of my main goals is to see CE taken more seriously, so that it is always included in the definition of a meaningful education."
People teaching and studying in the Continuing Education division can feel isolated from each other and the rest of the university because of geographic separation, and having classes part time and at night. Thompson has worked to connect instructors with each other and CE as a whole with the rest of the university through team building and networking.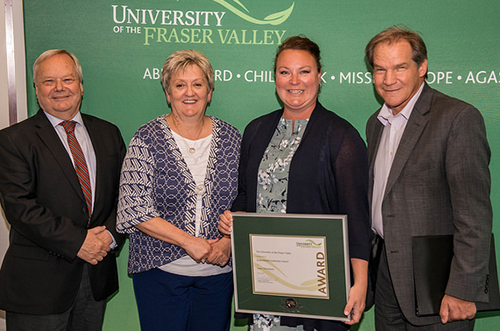 As for working with her team, she takes a personal approach.
"My approach to leading a team is to put the person before the work. I want to connect with you as a human, find out what's important to you, before we talk about work," she says. "When discussing goals and tasks and direction I want to look at what you're good at, what you think you're not good at, and at your greatest desires. My purpose is to help people identify skill sets they need to get to where they want to be in their lives, and to give them permission to believe in themselves, whether that be students or staff members in my department."
She encourages people to take initiative and stretch.
"You don't have to be in a senior position in order to lead. You can show leadership and initiative by recognizing a need, seeing that you have the skill set to address it, and taking action to do so."
Thompson feels right at home in CE, an area of UFV that is very community focused.
"We get so much satisfaction out of helping students reach their goals. We also love when people or groups come to us with ideas and we look to how we can connect our mandate with what they want to do. CE at UFV still has a feel of a grassroots, community organization. People still talk to each other, and I get to know the students, which is wonderful.
She was surprised and delighted to be nominated by her colleagues for the leadership award.
"I'm so honoured and humbled to get this award. I believe in the work we do and the people I work with. I learn from them and they learn from me."