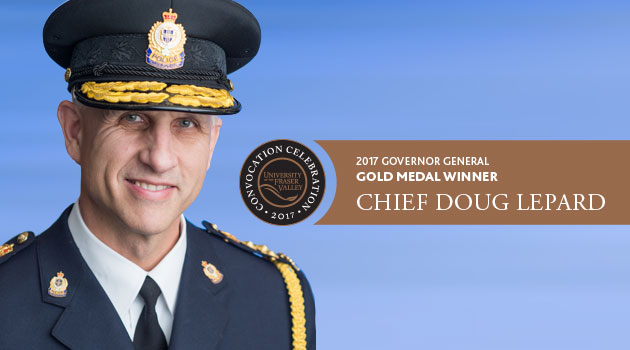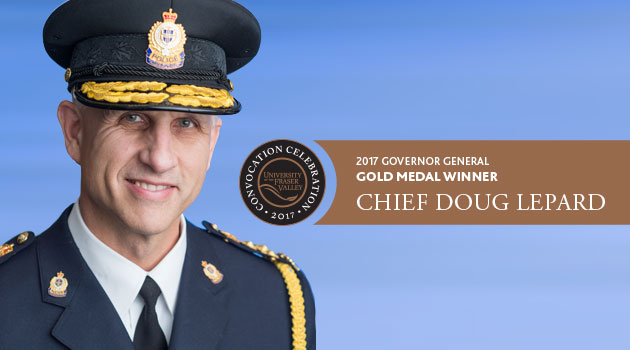 Chief Doug LePard didn't need a master's degree. But he wanted one.
The Chief of the Metro Vancouver Transit Police force decided it was "now or never" two years ago and joined the Master of Arts in Criminal Justice program at the University of the Fraser Valley.
On June 6, he will cross the UFV Convocation stage in Abbotsford as the Governor General's Gold Medal winner, in recognition of his near-perfect 4.23 grade point average.
"Pursuing a master's degree was a goal of mine, but a busy career and raising young children kept interrupting that particular goal," LePard recalls. "A couple of years ago I decided it was now or never. I didn't really need it for career purposes, but I took it on as a challenge. I believe in lifelong learning and I wanted to provide a good example for my daughters."
The MA in Criminal Justice program at UFV is cohort-based, with a group of professionals at various stages of their careers and from different sectors. The 14 students in LePard's cohort met once a month for three days of coursework for a 20-month period, completing nine courses and a major research project.
They got to know each other well over the course of the program, and learned from one another's career experience. At 54 years old when the program started, he was the senior student.
"There was a good mix between older and younger students, people from different police forces and disparate fields. It was a varied group, and that led to spirited discussions. There's a real benefit to being exposed to different perspectives from people working in corrections, social services, politics, and education, as well as the UFV professors, who were impressive," he says.
"The MA in Crim program gave me a chance to brush up on the latest innovations in criminal justice processes and learn about interesting areas I don't have a professional history with, such as state violence and terrorism."
He was surprised to learn that he is UFV's top medal winner at the master's level this year.
"I had been out of university for quite a long time and some of the other students had much more recent university experience. I was surrounded by very bright people so it's humbling and an honour to be singled out."
For his major research project, LePard chose to focus on potential uses of electronic monitoring systems for prisoners in the Warrant Expiry Date category, who have been released from prison because their sentence has expired, but who are not supervised or supported as parolees because they have served their entire sentence.
"I believe there is room for improvement in the supervision of this under-studied group of offenders. There are some people who are quite dangerous who are released after serving every day of their sentence because they did not qualify for either parole or statutory release. Using GPS-based electronic monitoring has great potential to keep track of them and reduce the risk to the public. First and foremost, it would deter them from committing crimes. If they chose to commit crimes anyway, it would be a powerful tool to implicate them. But it would also provide a powerful alibi if they are accused of an offence they didn't commit."
Midway through the MA program, LePard left his longtime position as Deputy Chief of the Vancouver Police to become Chief of the Metro Vancouver Transit Police, adding the challenge of learning a new role to his mix of work, studies, and family.
"It was definitely a challenge to handle it all, but I'm used to working quickly under pressure," he notes.
LePard has received many awards and accolades over his 36-year career, including a British Columbia Attorney General's award for service to victims, a Lieutenant Governor's award for saving a drowning man and an award for outstanding contributions towards ending violence against women in British Columbia from the Ending the Violence Association of BC.
In 2012, he was invested as an Officer of the Order of Merit for the Police Forces by the Governor General of Canada. In 2013, he was awarded the Queen's Diamond Jubilee Medal.
LePard had served on the Transit Police Board before being named chief of the transit force. He was a member of the Vancouver Police Department from 1981 to 2016. He most recently commanded the Investigation Division, where he worked at four different ranks in multiple assignments, including working in an undercover unit, and as a serious crimes detective and sergeant in several areas. He previously commanded the Operations Division for several years. In addition to his newly earned MA from UFV, he holds a BA in Criminology from Simon Fraser University and certificates from Queen's University and Harvard University.
LePard is grateful to his employers and his family for providing support during the MA program.
"For a while my wife was the only non-student in the house as both daughters were also enrolled in university so there were three of us busy studying in our house."