Welcoming vibe nets Global Lounge the UFV Teamwork award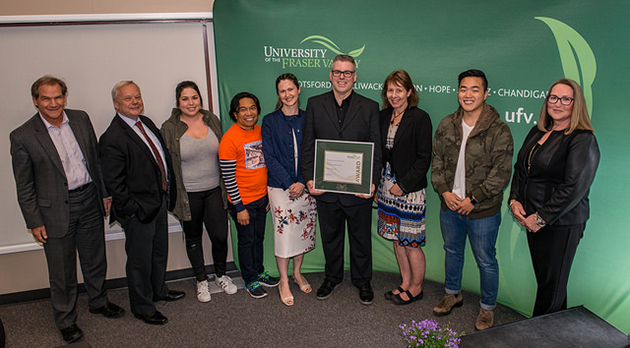 Open a special door at the UFV Abbotsford campus and you might walk into the middle of a salsa dance lesson or a trip through Russia. The Global Lounge within UFV International is a big, friendly mixing bowl — a place where students from Canada and a swath of other countries meet in a busy multicultural environment.
The walls of this space will soon be graced with a coveted award. The Global Lounge team is the recipient of the 2017 UFV Teamwork Award.
This award recognizes the team exemplifying the best practices of collegial, supportive, and effective collaboration in the service of the mission and goals of UFV.
The Global Lounge team has successfully added programming and other activities to the lounge and helped fulfill the original vision of an intercultural learning environment. Over the course of three years, they have provided the guidance, energy, and knowledge needed to take a concept and make it reality. This team has kept the lounge moving forward as a real and vibrant hub that is loved and appreciated by students, staff, and faculty.
Since 2014 a team of students, faculty and staff from many departments and programs have ensured the Lounge is a safe and welcoming space that embraces diversity and supports cross-cultural exchange. It is a welcoming place for the university community to gather, share, and engage on topics of local and global interest.
And it's a place to smile. In September 2016, Sonya Klotz, a domestic student and writer for the UFV Cascade newspaper, wrote an opinion piece on the lounge and said "Whenever I walk past the global lounge here at UFV, I see people laughing and enjoying each other's company. There is a culture of belonging, security, and diversity… it is a vehicle to new networks, new social engagement, and new thought."
According to one nominator, the success of the Global Lounge would not be possible without the interdisciplinary nature of the team and the way they continue to learn from one another by taking innovative and engaging approaches to student development.
The Global Lounge was also cited as a contributing factor in UFV winning the Most Inclusive Environment category at the 2017 Fraser Valley Diversity Awards.
"The people who have provided activities and programming for the Global Lounge from inception to today have really just done outstanding work," said Dave McGuire, executive director of UFV International. "They have created a warm and welcoming atmosphere where anyone can come and chill out, make friends, or learn something about a place you've never been. We help people connect, learn, and hopefully grow. It's what the Global Lounge is about and what UFV is about too, I think. Some institutions have a centre for international students. For us, because of the Global Lounge, we have an international centre for all students. There's a difference and think that's what makes the Global Lounge special."