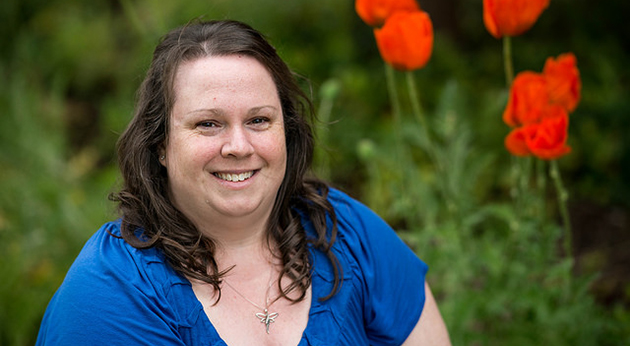 Powered by student energy and lauded by the department she supports, this year's UFV Staff Excellence Award winner can do it all because she's done it all.
Bouncing between departments as an auxiliary in the early 2000s, Cherish Forster sometimes followed full shifts in Registration by adding a few extra hours taking calls on UCFV's switchboard.
"I embraced every opportunity that came my way," she says.
Stops with admissions, the registrar's office, purchasing, and facilities eventually led to the criminology department.
That experience proves invaluable in her current role as program advisor for UFV's School of Criminology and Criminal Justice.
As the department's de facto assistant, Forster's skills and abilities are as diverse as they are invaluable. From guiding RCMP veterans through UFV's master's degree process to fixing broken photocopiers, she embraces every challenge as an opportunity.
And it's all fueled by students.
"We wouldn't be here if it wasn't for them. I'll move heaven and earth to help get them where they need to be," she says.
"I crave the student interaction, and this job lets me have it."
Her colleagues couldn't be more grateful.
Forster was one of two people Criminology Research Chair Irwin Cohen asked permission of before taking his previous position as director.
"She is one of the best examples of UFV's commitment to students and their educational goals," he says.
"Cherish exemplifies staff excellence. She is professional, extremely competent, treats everyone respectfully, cares deeply about students, the School of Criminology and UFV, is the first to volunteer for tasks, and always goes above and beyond."
Current Criminology director Amy Prevost gushed when describing Forster, calling her collegial, caring, friendly, professional, and competent.
"There is absolutely no question Cherish goes above and beyond in everything she does," Prevost says.
"In many was she is the foundation for the School. We can't think of anyone more deserving of this award."
At convocation, students often clamour for a photo with Forster, expressing their gratitude for her ability to artfully navigate their undergraduate experience.
"That's my favourite day," Forster says.
"I love watching my students cross that stage."
She developed her foundation skills in high school with UCFV's Applied Business Training program though the innovative Career Technical Centre initiative, but she never stopped learning. Forster recently crossed the convocation stage herself to receive a general studies diploma. Now she's pushing on. Most nights, after putting twins Hunter and Ayla to bed, she studies while working towards a Bachelor of General Studies degree.
Asked for advice for colleagues seeking to excel at UFV, Forster says it starts by loving what you do.
"You just have to find that piece that's going to drive you," she suggests.
"I guess you just have to find the driving force. People are open here. If there's something you like to do, maybe you need to find that piece in your job that you can build on. For me, it's the student piece. That's where I get my energy from."