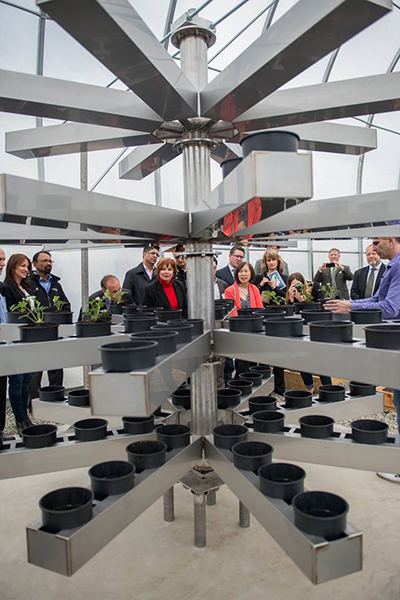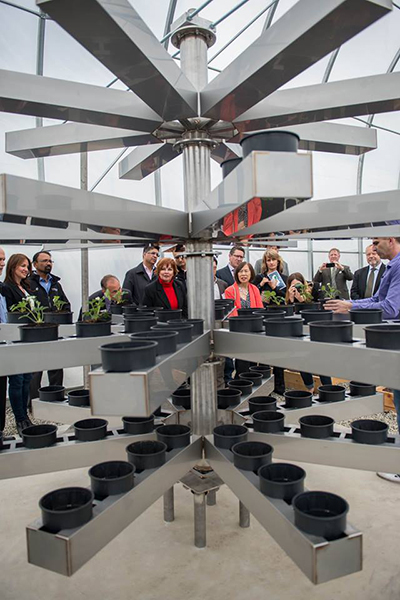 A unique partnership between UFV, the City of Surrey, and the John Volken Academy has won a Leadership and Innovation in Agriculture award, presented by the Union of British Columbia Municipalities (UBCM), the BC Agriculture Council (BCAC) and the Ministry of Agriculture.
The award recognized the BioPod Initiative, which aims to stimulate agri-tech development, provide opportunities for careers in agriculture, and strengthen the local food system.
The initiative provides agricultural skills training and certification for academy students, builds the qualified labour force for greenhouse operations in the region, and provides a commercial greenhouse for agri-tech development and demonstration.
The BioPods are housed in state-of-practice greenhouses built by BW Global Greenhouses and Shelters and feature Affinor Growers vertical growing systems, computer-controlled environments, and optimized lighting materials.
Students from the John Volken Academy, a Surrey-based addictions recovery institution, are learning about agriculture and producing food for their own consumption and for sale through the initiative. They will receive statements of completion from UFV recognizing their learning.
UFV's role in the project is coordinated by its Agriculture Centre of Excellence, under the guidance of director Garry Fehr.
"This initiative supports scientific research, innovation, food security, and social development," notes Fehr. "It's a good thing on so many levels. It's exciting to see how the partnership with government and an NGO is working out. We've had some fantastic results so far in terms of research — demonstrating new innovations, and in students being trained in employable skills. And there is lots of interest from other industry partners looking to have access to our facility to test new innovations."
Surrey Mayor Linda Hepner was also pleased with the award.
"The BioPod Initiative is our commitment as a city to ensure we are engaging innovators, educators, and youth to solve global food security issues through agricultural innovation," she said.
The project is also a win for the John Volken Academy, which takes a therapeutic community approach to addiction treatment, providing its students with healthy lifestyle changes to help them live successful and sober lives.
"We are grateful for the opportunity our students have to receive training in urban agriculture and are proud to partner with the City of Surrey and the University of the Fraser Valley in advancing agricultural technologies that will benefit our community," said John Volken, founder of the John Volken Academy.