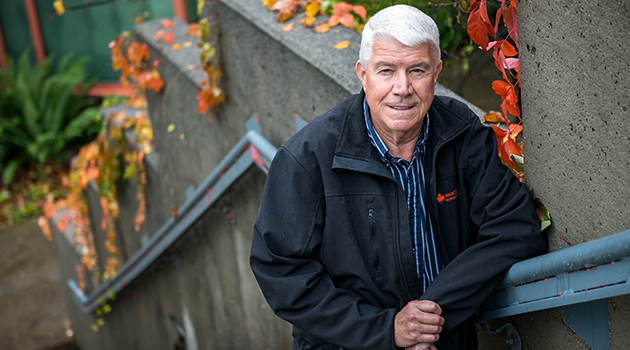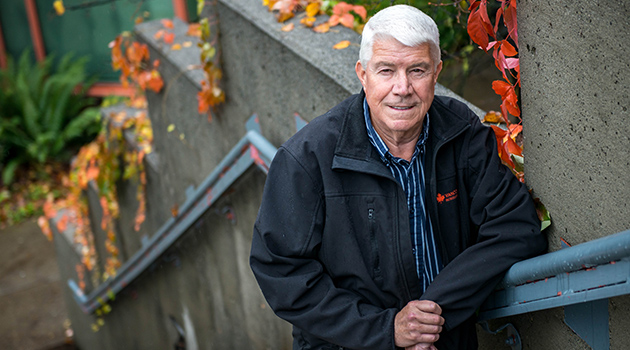 He might not match your vision of a university student, unless your default is a high-level, mid-career RCMP leader in his 50s.
That's the stage of life Gary Bass was at when he first attended the University of the Fraser Valley.
Bass, the 2016 winner of the UFV Distinguished Alumni award, was part of the first cohort of UFV's Master of Arts in Criminal Justice, graduating in 2007.
Whitney Fordham, UFV Alumni Relations manager, is pleased to see a "mature student" honoured as Distinguished Alumni.
"People who come back to post-secondary in mid-life add so much to the learning environment for the whole class with their real-world experience," she notes. "The trend these days is to consider your relationship with your university to be a lifelong one, with alumni coming back to learn throughout their career."
Bass's career in the RCMP spanned almost four decades, from 1972 to 2011. Now retired from the force, he continues to work as a senior research fellow for ICURS, a criminal justice think-tank based at Simon Fraser University that has connections to UFV.
Over the decades Bass worked his way up to Office in Charge of Major Crimes in BC, then Commander of E Division (BC and Yukon), then Deputy Commissioner for Canada West. At the height of his career, he was responsible for thousands of employees and an annual budget of more than $2.4 billion.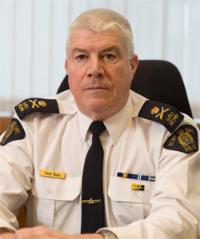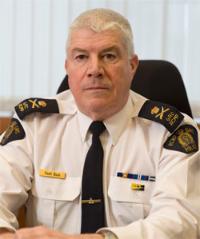 Bass joined the RCMP in 1972, soon after high school. Now, most new recruits have undergraduate degrees. Over the term of his career policing became much more sophisticated, relying more on technology and theory. Bass kept pace by taking courses in criminology and other subjects, mostly by correspondence as he and his family moved from posting to posting.
Once he moved to BC in 1992, and before he became a student at the university, he began to build connections with UFV.
Working with Darryl Plecas, then head of Criminology and Criminal Justice at UFV, Bass was instrumental in establishing an RCMP-funded research chair partnership, criminology computer labs where the RCMP and university could share information securely, and educational bridging options for RCMP officers, enabling them to compete a bachelor's degree through UFV.
So it was almost a natural transition from educational partner to student when UFV launched its master's degree in criminal justice. He joined the cohort, and packed his weekends and evenings with classes, studying, and research for the next several years.
It helped that the research he was interested in pursuing dovetailed nicely with his day-to-day projects at work which focused on the crime reduction model.
"Doing the MA program gave me the opportunity for action-oriented research, with my studies directly related to what I was doing professionally."
Darryl Plecas (currently Abbotsford South MLA but a UFV professor when Bass was a student), nominated Bass for the Distinguished Alumni award. He remembers valuing Bass's insight in the classroom.
"Throughout the MA program Gary proved to be as much a great teacher as he was a great student," said Plecas. "He is a walking gold mine of information and perspectives on criminal justice issues, and that of course made him a non-stop asset in seminars. Gary is the kind of person who seizes opportunities to be helpful to others. His classmates loved having him in the program."
Plecas also praises Bass's accomplishments outside the classroom.
"Gary has made significant contributions to his profession, including leading B.C. to the single biggest sustained crime reduction in the province's history. He has also led the province to become a world leader in intelligence led, technology led and offender focused policing. Through his efforts to establish crime labs and research chairs at UFV and other universities, he created many opportunities for students."
Over the course of his career, Bass worked undercover and underwater, investigated serious crimes, and often served as an expert witness. He's been involved in investigations of homicide, organized crime, drugs, and major crimes, and in the area of national security, including heading up security for the Vancouver 2010 Olympics.
As an administrator, he worked closely with other B.C. agencies to develop integrated investigation units for homicide, missing persons, and prostitution.
"I was, and continue to be, a strong advocate of integration of police services across jurisdictions," he notes.
Now retired and living in Langley, Bass is working as a researcher and focuses on issues and interests he developed during his career, including performance-based policing measures, drug treatment for prolific offenders, aboriginal policing issues, and rural and northern policing.
Bass's accomplishments have been recognized by many awards, including the Lieutenant Governor of British Columbia Award for Meritorious Service, the Lieutenant Governor of British Columbia Award for Outstanding Service, the Governor General's Award: Officer of the Order of Merit of Police Forces, the Queen's Jubilee Medal, the RCMP Long Service Medal, and an honorary doctorate from the Justice Institute of B.C.
As for how he feels about adding yet another accolade, the UFV Distinguished Alumni award, to his roster, the humble Bass simply says: "I'm very honoured."
He will receive his award at the UFV Town and Gown fundraising dinner on Nov 9.