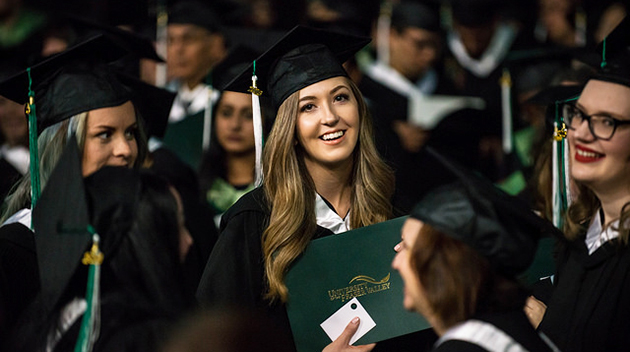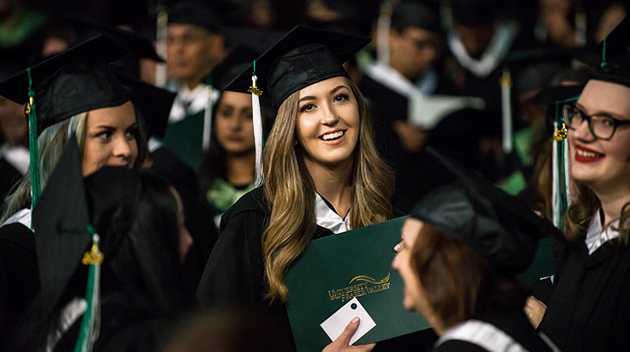 The University of the Fraser Valley is reshaping the venerable Bachelor of Arts degree, the foundation of many university graduates' education.
The new BA is linked to UFV's key learning outcomes and emphasizes four core competencies as well as personal and social responsibility, and adds a mandatory online ePortfolio that highlights the depth and relevancy of the BA in today's rapidly changing global economy.
UFV is the first university in BC to adapt the Bachelor of Arts degree in these significant and relevant ways.
The redesigned BA will help students align their studies with their passions and recognize the applied value of their education. The changes will also highlight the BA's fundamental worth to employers, graduate studies programs, work-study applications, and other post-BA programs and activities.
In 2014, the Conference Board of Canada reported that Canadian employers want to hire university graduates who can solve workplace and societal problems, have analytical skills, and can collaborate and work well in teams.
In order to meet this societal demand and further enhance their education, UFV Arts students will gain and demonstrate competency in four core skill areas: communication, critical thinking, quantitative literacy, and scientific literacy. Personal and social responsibility will also be demonstrated through civic and intercultural engagement. BA students will have many opportunities for deep learning in a wide variety of majors and a range of areas and topics of study.
Students must also complete an ePortfolio — an online database of videos, photos, audio recordings, and documents demonstrating competency and linking their education with their next goal — be that employment, or the next stage of their educational or professional development.
"The newly minted BA offers greater opportunity for UFV students to integrate their learning across multiple disciplines and across many facets of their lives," notes Jacqueline Nolte, Dean, UFV College of Arts. "It will help students reach their educational and career goals — resulting in more engaged citizenship in the long term and bringing demonstrable benefit as they bridge from their studies into the social and economic environments."
The changes were triggered in part by students' desire to translate their course and extracurricular work into the skills and the knowledge employers recognized and valued.
"I think that's an amazing idea," says Thomas Funk, who received his BA from UFV in 2014. "Having a portfolio will give Arts students a tangible way to understand what they learned over their past 4-6 years. I believe an online portfolio would have made me feel much more employable. I know there is a gap between education and 'the real world' for many arts students. If this portfolio can narrow that gap I think it's worth the resources."
For more information on UFV's new Bachelor of Arts degree please visit the BA calendar page.