Adelle Renaud has a lot to be excited about these days.
The Vancouver fashion designer is riding the wave of fame and momentum gained for her "fashion for tomboys" line and was recently named one BC Business magazine's Top 30 Under 30.
"I am extremely honoured to have received this recognition," Renaud said. "I was actually very surprised! And I still haven't faced the fact I am turning 30 this year!"
Renaud, a U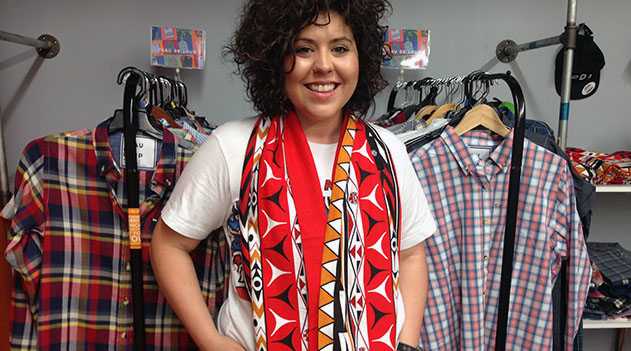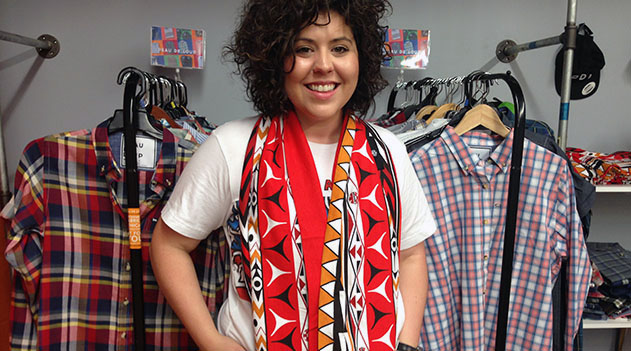 FV Fashion Design alumna who went to high school in Abbotsford, is CEO of Peau de Loup, a women's fashion design company. Peau de Loup's core business consists of male-style shirts tailored to fit women's bodies. Their main line is women's button-down shirts, and their slogan is "we stole it from the boys and made it in a way to be proud!"
Last year, she and business partner Erin McLeod (goalkeeper for Canada's national soccer team) swung a deal for Peau de Loup to design custom black suits and white oxford shirts for the team to travel in as they competed in the World Cup.
Topping off the look was the Unity Scarf, a red, white, black, and gold scarf with a Salish design on one side and a vibrant Canada logo on the other.
Then in the fall, they appeared on CBC Television's Dragon's Den, and swung a deal with Dragon Manjit Minhas to invest in their company.
"2015 was really good for us!" Renaud reports. "We were super lucky to have the chance to face the Dragons on Dragon's Den and luckily they were super amazing to us. Working with our investor has been a super rewarding process. Bringing someone like that onto the team is immeasurable as they come with a wealth of knowledge and experience. We opened our first physical retail store this year in Park Royal (Outdoor Village) which has been a huge learning curve! On top of that we have lots of exciting projects in the works and we can't wait to share!
In 2015 Peau de Loup recorded in $500,000 in sales, largely online Peau de Loup is a company with heart and a social conscience. Part of the profits from every shirt sold go back to helping girls in Bangladesh.
She will be a guest at the UFV Absolute Style fashion show on April 27, receive her 30 Under 30 award at a BC Business function on April 28, and speak at the UFV Graphic Design Creative Woods show on April 29.
Read the BC Business profile on Adelle Renaud here.