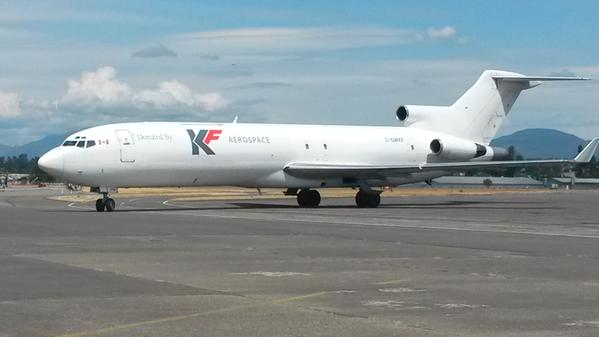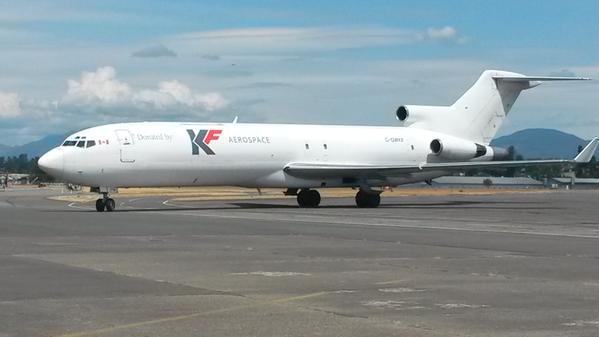 A large, loud donation touched down at the Abbotsford International Airport July 15, when the University of the Fraser Valley received a Boeing 727-200 jet aircraft donated by KF Aerospace (formerly Kelowna Flightcraft). The 727 will be utilized by the next generation of technicians training in UFV's aerospace programs.
After nearly 40 years in service, the aircraft will provide a real-world learning environment for trades skills training critical to the aviation industry. The jet will be utilized by students as they learn aircraft structure repair, maintenance, assembly, and modification.
"We are very pleased to receive this wonderful aircraft. It is a perfect platform for today's students to learn the skills needed for a career in the structures area of aviation," said John English, UFV's Dean of Applied and Technical Studies. "There is no substitute for real-life learning and this donation from KF Aerospace helps build the skill and knowledge base for the aviation industry in our province and beyond."
This particular 727 has been a flying workhorse since entering service in 1976. The three-engine jet has completed over 45,000 flights for several airlines including Air Italia, Continental Airlines, Purolator, and KF Aerospace, where it was primarily used to service Purolator. Retiring into a learning environment is a fitting conclusion to its airborne career.
"I am glad we could assist UFV as they continue to grow their aerospace programs and train the next generation of people who will work on aircraft," said Barry Lapointe, founder and CEO of KF Aerospace. "I strongly believe in supporting the training of our future employees — it is critical to the success and growth of our business and the aviation industry in BC."
Facts and figures on 727-200:
Model: Boeing 727-243
Current total airframe time: 65,971 hours
Date of manufacture: Oct, 1976
45,360kg (100,000 lb), max takeoff 84,000 kg (185,000 lb)
Wing span 32.92 m (108 ft), length 46.69 m (153ft 2 in), height 10.3 6m (34ft 0 in). Wing area 157.9m2 (1700sq ft)
Max speed 1,000km/h, max cruising speed 925 km/h
Max seating (when equipped for passengers) was 189 at six abreast
KF purchased in Oct 2001
Converted from passenger to cargo configuration in 2006
Last revenue flight on Mar 26, 2015 to YVR
Repositioned to YLW on April 2, 2015.
KF Aerospace Background:
Founded in 1970 by Barry Lapointe and Jim Rogers, the company began providing maintenance services to aircraft in Western Canada, and now provides a wide range of aviation services to corporate, commercial, and military customers worldwide. KF Aerospace is extremely proud to be a strong contributor to the Canadian Aviation community for 45 years.
Headquartered in British Columbia's Okanagan Valley, KF Aerospace is privately owned and one of the top aviation service providers in Canada. With nearly 1,000 highly skilled employees in locations across Canada, the company provides air cargo operations, aircraft leasing services, heavy maintenance and modifications, and pilot training.
KF Aerospace Defence Programs trains 80% of Canada's Royal Canadian Air Force pilots in Multi-Engine and Rotary Wing, and oversees all aspects of training and facilities management at a location in Portage La Prairie, MB. As the Type Certificate holder (OEM) for the Convair twin engine aircraft, the company provides 24-hour technical services, parts and support.
UFV Aircraft Structures Technician program:
The UFV Aircraft Structures Technician program is offered at UFV Aerospace Centre at the Abbotsford International Airport. It is Transport Canada approved and provides a thorough introduction to the aircraft repair and aircraft maintenance trade including:
Manufacturing, modifying, and repairing sheet metal parts, structures, and panels to exacting tolerances
Repair and overhaul of fixed-wing aircraft
Rotary wing (helicopter) repair and overhaul
Aircraft parts manufacturing
Composite component fabrication and repair
Aircraft structures assembly and modification
Using and interpreting manufacturers' structural repair manuals
For further information please contact:UFV Communications Director Dave Pinton: 778.808.5661 dave.pinton@UFV.ca KF Aerospace Director, Human Resources Grant Stevens: 250.491.5567 g.stevens@kfaero.ca