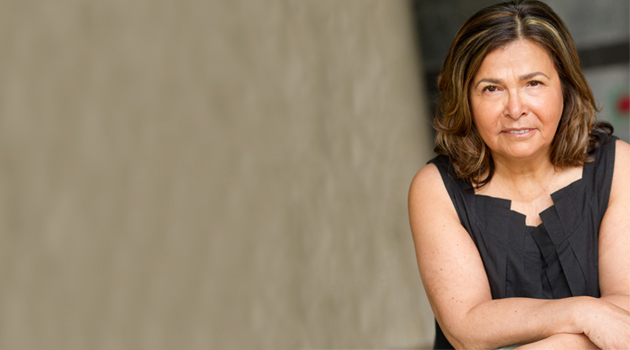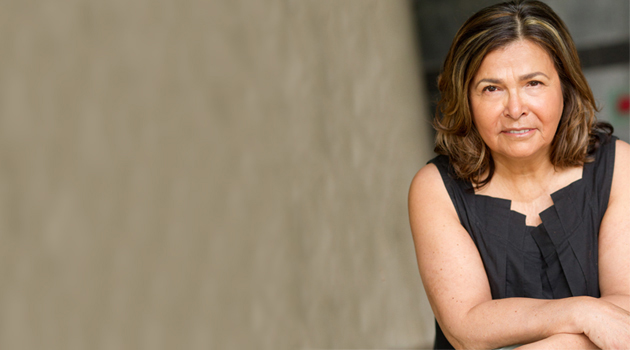 Movement and expression have defined Margo Kane for more than 40 years during an accomplished professional performance career.
You can't categorize her, and you can't keep her still.
A seemingly endless well of perpetual energy helps this dynamo tell her own story, express herself as an artist, and facilitate the sharing of many stories reflective of the Aboriginal experience in Canada.
For her visionary leadership and innovation in the performing arts, Kane is receiving an Honorary Doctor of Letters degree from the University of the Fraser Valley on June 12 at 9 am. The public is welcome to attend the Convocation ceremony at the Abbotsford Centre where she will receive her degree.
Kane is an Aboriginal storyteller, dancer, singer, animator, video and installation artist, producer, director, writer, and teacher who has been active on the Canadian cultural scene for more than four decades. She is the founder and Artistic Managing Director of Full Circle: First Nations Performance. Her one-woman show Moonlodge is considered a classic in the Aboriginal theatre genre. She runs the annual Talking Stick Festival in Vancouver. As artistic director of Spirit Song Native Theatre, a performing arts program launched in Vancouver in the 1980s, she has developed performances based on stories and legends of Aboriginal communities in the region as well as stories from the real lives of her students. Kane has also used theatre as a community development tool in her role as a facilitator with the National Native Role Model program.
Like many Aboriginal people of her generation, Kane did not grow up with knowledge of her traditional culture and practices. She was adopted into a white working-class home, and not formally informed she was Aboriginal until later in childhood.
She was gifted with an irrepressible creativity that initially found its form in dance lessons, drama productions, and singing with a big band while still in high school.
"I was a natural performer and storyteller since childhood, and I just followed my path," she recalls. "My family had no clue about the arts and didn't think it could be a viable career, but it was the only thing I could do that made me feel good! I wasn't made to be a worker bee. I am an artist through and through. It was the only path that made sense to me. I had to do what I loved."
In her early adulthood, Kane was in what she terms a very dark place.
"I fell into a big black hole after high school. I struggled to find the right path. Those were dark years and I did a lot of soul searching. The joy I experienced through dancing and artistic expression reminded me of my gifts and I chose to use those gifts to create a life full of joy and love."
While she started her artistic career in conventional dance and theatre, she began to learn more about and embrace Aboriginal culture through some of the projects she took on and through her work with on wellness initiatives in Aboriginal communities.
"Working in the field and in my own practice helped me develop the knowledge and content of Aboriginal culture, and then I brought it into my own creative work," she recalls. "I became steeped in traditional practices and knowledge from all nations."
Once Moonlodge, her one-woman show blending dance and oral storytelling, took off in popularity, she was on her way to forging a new genre.
"I create work for the body when I am creating a piece. I don't sit down and write. I had my own ideas about what kind of performance I wanted to see, and I created it."
While some of her assignments, such as working in Aboriginal communities on wellness initiatives, have a healing focus, she says healing comes naturally out of artistic expression.
"Any expression of self can promote healing. Our people were so suppressed for so long that any kind of art can help lead to self-discovery," she says. "We all have energy moving through us. We can choose to use it as fuel to do something inspiring, to live our lives and be well in the world. It was inspiring to visit those communities and know that the work being done promoted thinking differently."
Now in her sixties, Kane is still engaged artistically and planning new and exciting projects with new collaborators.
"I am starting to feel that everything is coming together, that an accumulation of my dreams is converging in an amazing way. I am considering what I want to do with the last third of my life, and feeling good about it. I am astounded to look back and see where I have come to from having chosen to take the artistic path in life."
As for receiving an honorary degree, Kane says that it is indeed an honour. She took courses and training throughout her career, but never earned a formal post-secondary credential.
"I didn't go to university. I learned as I lived," she says. "So it is very special to be recognized with this degree."