Gwen Point to be next UFV Chancellor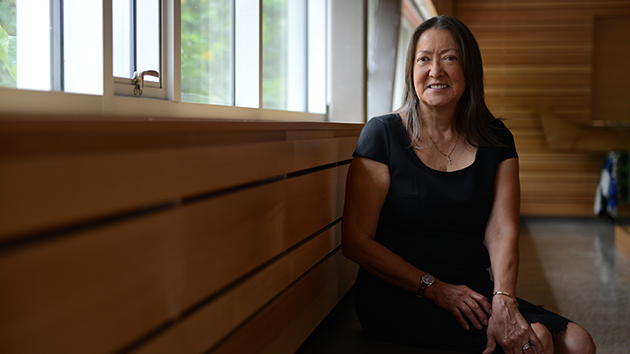 Dr. Gwen Point will be the new Chancellor of the University of the Fraser Valley.
Point will take over from Dr. Brian Minter, who was UFV's first Chancellor and served two terms stretching from 2008 to 2014. She will be installed as Chancellor at a ceremony in the coming months.
The new Chancellor-select has a connection to the Fraser Valley that stretches back decades. She started her engagement with what was then Fraser Valley College in the early 1980s when she and her husband Steven (former Lieutenant Governor of British Columbia and now a B.C. provincial court judge) took university-level courses there.
From Fraser Valley College student to member of the University College of the Fraser Valley board of governors, to UFV assistant professor, Point's career and educational journey has paralleled the development of UFV from college to university. Her experience as Chatelaine of the Province of British Columbia — the title given to the spouse of the Lieutenant Governor — will serve her well when performing the ceremonial aspects of the UFV Chancellor role.
The Chancellor is the ceremonial head of the University of the Fraser Valley and serves as a member of the Board of Governors and the Senate. Dr. Point will also preside over Convocation conferring UFV degrees, diplomas, and certificates, and serve as an ambassador for UFV at major events.
The Chancellor is appointed by the UFV Board of Governors upon the recommendation of the Alumni Association and consultation with the UFV Senate.
"The UFV Board of Governors is delighted to welcome Dr. Gwen Point as UFV's next Chancellor," said UFV Board Chair Barry Delaney. "Dr. Point has been part of UFV since our early days as Fraser Valley College. She knows us well and epitomizes our commitment to quality education, student success and regional development. We are extremely fortunate to have Gwen serve as UFV's next Chancellor."
"I am very pleased to be working with Dr. Point," said UFV President and Vice-Chancellor Mark Evered. "She brings a unique balance of community and university experience, leadership and understanding. She has served our University as a teacher, a scholar, an administrator, and a board member, has held a number of offices in government, including the senior office of Chatelaine, and is a passionate leader, mentor, and role model in our community. She will be an outstanding addition to UFV."
Currently, Point is an assistant professor in the School of Social Work at UFV, and teaches First Nations Studies courses, including Stó:lō Nation Development, and Stó:lō Communications and World View. She will be resigning her position as a faculty member at UFV in order to take on the voluntary Chancellor role.
She holds a Bachelor of Education degree from UBC, a post-baccalaureate diploma from SFU, and a Master of Education degree from the University of Portland, and is near completion of a doctorate in education from SFU. She also holds an honorary Doctor of Education degree from the University of Victoria.
Point brings extensive teaching and educational leadership experience, from elementary to postsecondary, to her new role, as well as extensive government experience from her work with provincial ministries and her service as Chatelaine of B.C.
She is a respected Stó:lō leader, mentor, and cultural advisor. She has contributed her cultural knowledge and experience to numerous books, conferences, workshops and communities, often as an invited keynote contributor.
She has also received numerous prestigious awards over the course of her career.
"It is a real honour to be asked and a privilege to take on this role," said Point, a member of the Skowkale First Nation who lives in Chilliwack. "I started my post-secondary education here and I was very grateful for the access it provided at the time. It was wonderful to not have to leave home to get an education. It was a very special experience when I returned here to teach full time in 2005. Now becoming Chancellor and playing a leadership role at UFV sends a message that dreams do come true and good things do happen."
She said that she will miss teaching and the opportunity it provided to pass on knowledge about Stó:lō culture and history to both Aboriginal and non-Aboriginal students.
"My grandmother told me that what you know has no value. It's like sand in your hand unless you pass it on to others. I know that teaching the community about the Stó:lō people has made a difference and I really believe that it is an act of reconciliation. It is helping to create a better understanding of recent history. Every class, I would see a shift and transformation in the students."
Point added that becoming Chancellor will allow her to continue to provide leadership and mentorship to young people.
"My elders said that your greatest teaching method is one of example. You can't do anything directly about others' choices but you can help by setting an example. I feel blessed to have the opportunity."
The ceremonial aspects of her Chancellor role, which will include presiding over Convocation and appearing at other special events, will be inspired both by her time as Chatelaine of B.C. and her leadership role in the Stó:lō community.
"Ceremony plays a very important role in our community. It is a way of acknowledging and honouring both the person and everyone they are connected to. If you stand up to receive an honour it also lifts up your family and community."
When not busy with their professional or community roles, Gwen and her husband Steven enjoy spending time with their children and grandchildren.
More about Gwendolyn Point
Career
Gwen Point has been developing and delivering courses at UFV in the School of Social Work and Human Services since 2005 (and was a sessional instructor at UCFV from 2002–04).  She also served as UCFV's Aboriginal Curriculum Coordinator in 2001. She has been the coordinator and an instructor in the Early Childhood Education program at the First Nation Training and Development Centre in Prince Rupert, and, in her position as a faculty associate in the Faculty of Education at SFU, coordinated the supervision of student teachers, developed and delivered programs and served as liaison with public school administrators and sponsor teachers. As Manager in the Stó:lō Nation Education Department she was responsible for K-12, postsecondary, and First Nations language and culture programs. She has also worked as an elementary school teacher in Chehalis and as a native support teacher for School District 33.
Government and community experience
Point has extensive government and community experience. From 2007–12, as spouse of the Lieutenant Governor, she served as BC's Chatelaine. This role demanded her participation in numerous and diverse public engagements, social as well as ceremonial.  She served as official host of visiting members of the Royal Family, heads of state and other dignitaries, as patron of organizations such as the BC Council of the Girl Guides of Canada and First Peoples House, and as an Officer of the Order of St. John.
She served in the Ministry of Education, Skills and Training, Aboriginal Services Branch, as the regional coordinator for the Fraser Valley, 1997–99, and for the Northeast and Northwest Regions, 1999–2000.  She currently serves on the Board of the First Nation Education Steering Committee (formerly vice-president).  She has also served as independent chair of the Fraser Valley Aboriginal Interim Board of the Ministry of Children and Families, and numerous other community and educational committees, councils and societies, frequently as chair. She is currently Chair for the Fraser Valley Aboriginal Children and Family Services.
She is a well-respected and well-recognized Stó:lō leader, mentor, and cultural advisor. She has contributed her deep cultural knowledge and experience to numerous books, conferences, workshops and communities, often as an invited keynote contributor.
Awards and recognition
Point has received numerous prestigious awards. In 2012, the University of Victoria awarded her an honorary Doctorate in Education. UFV (then UCFV) awarded her the Betty Urquhart Community Service Award in 2003. She has also received the Ambassador Award from Aboriginal Tourism BC, and was recognized as Honorary Witness by the Truth and Reconciliation Commission of Canada. She has received a number of community awards for her contributions to Stó:lō language and cultural education, including recognition by the Stó:lō Nation, the Seattle Art Museum and others. In 2006, the Chilliwack School District set up two bursaries in her honour.
Longtime UFV connection
As one of UFV's students in the Fraser Valley College era, Point remembers the opportunities that were created when Fraser Valley College opened and began its relationship with the local Coqualeetza Education Society.
"The notion of having something available locally in terms of post-secondary education was very important. Our people struggle with the challenge of moving away from home and family. Steven and I tried it when he was going to school in Vancouver, but we struggled financially, so we came back to Chilliwack, where we had family support. I had the notion that I'd get a profession to save some money so he could go back to school, and I went into hairdressing."
Point had taken some upgrading at the college, and people were urging her to continue her education as well. Balancing the demands of a young family and her and Steven's education was a very difficult challenge.
"Heather Stewart and Betty Urquhart from the college were telling me that I had what it takes to do well and to go on for my bachelor's degree, and I knew we'd have even less money in the short term if I gave up hairdressing. I decided to for it, and we did starve! But as a student you learn how to make ends meet. I enjoyed my time at university and as each term ended a great feeling of accomplishment made the financial and personal challenges worth it."
Point remembers being involved with the First Nations Student Society, and helping to organize elders' visits and other cultural activities on campus. In this role, she tried to create a bridge between the Aboriginal community and the college.
"I remember we had the elders to the college for a lunch once and I was called upon to speak by someone from the college. I was sitting beside my grandmother, and was very embarrassed and reluctant to speak because in our culture it's very disrespectful to speak before the elders do. My grandmother recognized this and told me speak. This was the beginning of my understanding that we live in two different worlds culturally and that understanding this is important to honour the culture we live in and to learn to live in both worlds."
After earning her teaching credential at UBC, Point taught school on her home reserve in Chehalis for three years before becoming a First Nations education coordinator for the Chilliwack School District, a role created by a provincial government initiative in 1994 that directed targeted funding to school districts to fund aboriginal education initiatives.
"My administrator told me: 'do what you have to do — I don't want to lose a student' and I took that seriously."
Point says she sees the results of several decades of interaction between UFV and Aboriginal communities as having had a significant impact on relationships between Aboriginal and non-Aboriginal groups.
"These relationships will create a positive future for our communities."
-30-