A colourful commitment to craft leads to UFV honorary degree for Charllotte Kwon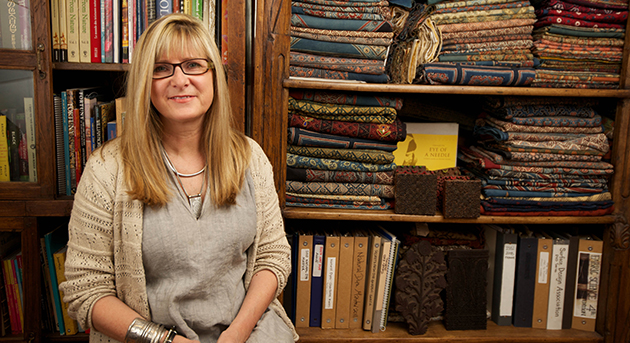 When the colours of traditional ajrakh cloth, the legendary blockprint of the desert, were once again true, Charllotte Kwon knew she'd made a difference.
Her Maiwa Foundation had finally secured land in India's Kutch region, obtaining a pure water source vital to naturally dyeing ajrak. Without this, Ismail the craftsman, his family, and the extended community of printers, dyers, and farmers could lose their way of life, culture, and traditions.
And that's just one result from Kwon's legacy of support for entrepreneurship and craft-based microbusinesses that led to her selection as a University of the Fraser Valley honorary degree recipient. She will receive the honorary Doctor of Laws degree on June 12.
"Like a handcrafted quilt, Charllotte's endeavours are multi-layered and complex," said UFV fashion design professor Gayle Ramsden when nominating Kwon.
"She realized early on as a businesswoman that there is much more behind a finished piece, there is a person, a family, community, and a way of life."
As an artist, documentary filmmaker, educator, businesswoman, and humanitarian, Kwon works tirelessly as an advocate for the preservation of tradition and craft and the betterment of society. Her compassion, drive, and knowledge have changed the lives of many through symposia, master-class workshops, and natural dye teaching, all driven by the Maiwa Foundation, which is dedicated to the preservation of traditional craft and to employment, empowerment, and the eradication of poverty through craft in developing nations.
Her efforts and dedication to the preservation of the traditional extended to the boundaries of human experience when Maiwa Foundation (started in 1997) helped raise $35,000 for shelter, food, and medical supplies after an earthquake rocked India's Kutch region in 2001.
It all began at home while watching her grandmother make lace. In that moment, a seed was planted, even though she didn't learn lacework before her grandmother passed away.
"It became something that made me have a real deep desire to know how things are done by people who are masters," she says.
"I don't want to lose traditional dyes made with specific recipes that are rarely written down. Without care, that information could be lost forever."
Kwon became intrigued by plant dyes while travelling through Indonesia, Thailand, and China. She found craftspeople struggling to find fair market value for their work; often undercut by mass-produced pieces made with artificial dyes, poor materials, and machines.
"Those who are doing the very best work couldn't find a market."
She set up a table at Granville Island Market, made $3,000 one Christmas weekend, and never looked back.
Her Maiwa retail store on Granville Island that sells artisanal clothing, bedding, jewelry, and art also includes warehouse and workshop areas that employ about 30 people.
The non-profit Maiwa Foundation — connected to but separate from Kwon's for-profit business —raises money for small grants and larger projects that don't fit within traditional non-governmental organization requests. Small grants are from $500 to $1,500, they help craftspeople do everything from buy a bike to build a well.
Maiwa's reach in India stretches from the Kutch region on Pakistan's border to Nagaland on the Burmese side to Kerala in the South. What started as work with embroiderers expanded to include weaving, block printing, natural dyeing, and other disciplines. Kwon's goal is to help craftspeople keep their art alive – before it's too late.
"It's almost beyond our comprehension how fast things are changing, and how fast traditional arts are silently disappearing," she says.
"It's their heritage and their inheritance."
Kwon's work has supported the University of the Fraser Valley as well, through the mentorship, supervision, and the hiring of UFV fashion students.
-30-