UFV and NVIT combine to offer "capstone" degree to addictions worker students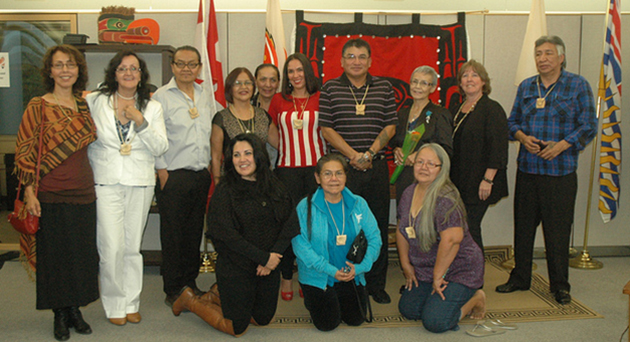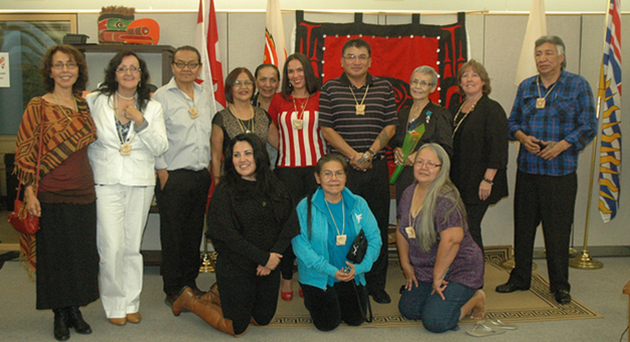 The University of the Fraser Valley has teamed up with the Nicola Valley Institute of Technology to enable participants in an NVIT diploma program to earn a Bachelor of General Studies degree.
NVIT is a British Columbia public post-secondary institution governed by the Aboriginal community and serving primarily Aboriginal students.
Graduates of the three-year Chemical Addictions Worker advanced diploma (ChAD) program were offered the opportunity to take an additional 30 credits of upper-level courses through UFV in order to earn their BGS degree. The program was facilitated by UFV associate dean of arts Ken Brealey.
"One of the students told us that the personal impact of the residential school experience and colonialism was that it tore his life into little pieces," said UFV VP academic and provost Eric Davis. "He said that coming to UFV to finish his degree was like putting it back together. Education can be a healing journey."
The students didn't travel to any of UFV's campuses to take most of the program. Rather, UFV instructors went to them at NVIT's Vancouver campus. The courses were held in eight condensed six-day blocks over the course of a year, with two weeks of offsite reading and preparation time for each course. The students, many of whom were also working and raising their families, were consumed by the program for at least three weeks out of every month.
The students travelled from all over the province to gather at NVIT's Vancouver campus once a month (and occasionally visited sites in the Fraser Valley).  Students came from greater Vancouver, Merritt, the Nass Valley, the Skeena River, Salmon Arm, Spuzzum, Ucluelet and Kyuquot, among other areas.  Some had taken their three-year ChAD in Vancouver, and others in Merritt, but they formed one cohort for the capstone year.
"We really bonded in the program," said Ivy Tom. "There was a lot of growing and healing. We brought our own traditions, from whatever nation we came from. We held sharing circles from day one, and finished off with a circle. Plus we had class dinners every week. The course content could be tough. It touched a lot of bruises. It was important to have a place to go to laugh, eat, and be silly."
Courses included two in Indigenous Governance and one each in Facilitating Skills for the Workplace, Indigenous Research Methods, Workplace and Academic Communication, Traditional Ecological Knowledge, Aboriginal Drama, and World Views of Indigenous Peoples.
"It was a very intensive experience," said Wenona Victor, who taught the students two of the courses. "It was a challenge for me to pack all that teaching into six days, so you can imagine what it must be like for the students. It really is testament to their ability and dedication. They have more than earned my respect."
UFV instructor Linda Pardy taught Facilitating Skills for the Workplace to the NVIT cohort.
"Being part of the NVIT cohort project was both a joy and a professional development opportunity," she said. "It challenged me to see, reflect, and improve on a course that I teach often. Working together with the cohort students was a gift that will live on — as I have already enhanced the course with new activities and ways of knowing.  I am deeply thankful to have been part of this outstanding project."
Despite being an extremely demanding program that took them away from their family for a week out of every month and consumed much of their attention the rest of the time, the program boasted a 100% retention rate.
The students appreciated the support they received from all their instructors, and were especially inspired that most of them were of Aboriginal heritage themselves and had earned master's and doctoral degrees.

Some found that the program was more valuable than they expected it to be.
"I initially opposed some of the course choices," said Jenelle McMillan of Papsilqua. "But having done the program, I now say that the curriculum matched our needs well. There were huge benefits to doing this after our diploma. We were able to apply techniques and meld our academic courses with our culture."
Like a significant number of Aboriginal adults, Flora Raynes was raised outside of her culture in a foster home. She valued the way the program allowed the students to integrate an Aboriginal world view into the curriculum and the course experience.
"I had been to college already decades ago, and it was all cognitive-based lecture-style learning," she recalls. "There was very little interconnectedness with our instructors. This program offered experiential learning and helped me to speak from my own personal experiences and bring insight from my own culture. My original world view was very German, influenced by my foster family. This program has helped me to more profoundly indigenize myself and my thinking!"
At a celebration ceremony held at the NVIT Vancouver campus recently, the graduating students had a lot to say about their experiences.
Student representative Alex Moore thanked the instructors during the ceremony for "taking a chance" on the students.
"There were a lot of tears in the classroom, lots of personal development. Many issues came up," he observed. He later noted that he took the program because he wants to effect change from within the Aboriginal community, "especially within the younger generation. Chemical addiction is a major problem. I wanted to upgrade my education to help our communities deal with it."
Gerard Keymatch (Sap Ot Aw Eyak) of the Cree Nation said that adding a year of degree-level studies made for a balance between personal development and theory.
"I pursued the degree to be recognized for the work that I have done. It was nice to have the balance between personal and academic. You can't really separate the personal from the professional. We connect with our hearts as well as our heads. These two institutions (NVIT and UFV) made the effort to teach in that way."
Hector Hill of the Gitxsan Nation thanked the partner institutions for their willingness to being open to and willing to accommodate indigenous ways of learning such as sitting in a circle formation ("so that nobody is ahead of or behind one another"), smudging, and sharing.
"We didn't impose our ways on them. They were willing to learn from us. I enjoyed coming to school."
Hill had no formal education until he was 45 years old in the mid-1990s, when he learned to read and write in English.
"There were so many things I wanted to do. Education has changed my life, in a physical, emotional, and spiritual way. I always thought, felt, and talked in Gitxsan. Now I can put English words to these and take what my parents taught me and engage with the wider world with those ideas and ways of thinking."
Hill had high praise for his instructors.
"Wenona Victor told us we'd come way beyond what was asked of us, sharing our life stories and traumas, but she was so good to us, she made me feel open to learning. She accepted me as who I am, not as someone might want me to be. Because of my experience in this program I want to go on to do my master's degree in counselling psychology at UVic."
Jessica Stepp of the Cree Nation concurred.
"Wenona made the transition very smooth for us. She empowered us right from the beginning and alleviated any apprehension. Her focus allowed us to bring our own unique selves to class. I also loved learning from communications instructor Linda Pardy."
Juanita Joe of the Sylix Nation said that the first three years of the program made her ready to take on the somewhat foreign experience of academic university courses encountered in fourth year.
"Had I not take the first three years and done some of my own healing, and positioned myself for a world view different than one I brought from my indigenous heritage, it might have been more difficult for me."
Mary Howard of Kyuquot chose to continue into the degree part of the program because she had completed three years and "I didn't want to stop in 'mid air.' I wanted my degree in something, partly to inspire the younger people. It was an awesome experience.  I thought I couldn't do it, but I did!"
Norma Hall noted that there was reciprocal value for UFV and NVIT accommodating indigenous ways of learning.
"There is more success for indigenous students if education and learning is approached in this way," she notes. "I hadn't thought of education as a tool for our people for a long time, after trying post-secondary in the 1970s and '80s. But now I see it as more valuable as long as we have our people's history and pride instilled into the class content."
Aiona Anderson was grateful that UFV was open to the idea of offering a capstone fourth year to allow the NVIT ChAD students to earn a degree.
"When I heard a fourth year was happening, I ran right over to register. It's the best thing I've done for myself in a long time. It was a wonderful experience. I commend all the UFV teachers and the program coordinator, Ken Brealey, who was there all the time, supporting us and encouraging us."
The students will receive their degrees at UFV's Convocation ceremonies in June 2014.
–          30-