Join the UFV staff & faculty community as we step into June on our Cross Canada Challenge. We encourage you to participate in this collective virtual trek across Canada via the Trans Canada Highway, which is 7,821 km long, equaling approximately 10,000,000 steps.
Our goal is to cover the distance between Victoria and St. John's as a collective community, to reach a total of 10,000,000 steps over the month of June. With the help of the ParticipAction app we will be tracking our steps and converted activity minutes.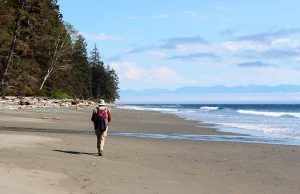 Since we can't stray too far from home right now, throughout the month we will be providing "scenic" views and Canadiana inspired tips and activities to motivate you to see how far we get before it's time to celebrate Canada Day. This week were are starting out on our beautiful west coast.
Check back each week for motivational contests and Participants of the Week prize winners as well as at the end our furthest step champ! As an added bonus, we will be competing against students as they too will be virtually trekking across Canada. So get ready for a fun adventure.
Additionally, on Wednesday, June 3 from 12-1pm we will be hosting our third Lunch & Learn "Prioritizing your Personal Well-Being," where you can join Vanessa Ronksley as she shares her personal story about her health and wellness journey and how she made her well-being a priority. She will provide participants with knowledge and strategies about how she overhauled her life with exercise, as well as the challenges she had to overcome to get to her new self.
Full details of the workshop and our Cross Canada Challenge can be found on the UFV Unite Facebook group page.
Submitted by guest blogger Stacie Dixon, Facilities Operations Coordinator, Athletics & Campus Recreation