Project Office Construction Bulletin
WHO: Wade & Associates Land Surveying Ltd.
WHEN: Thursday, April 20 & Friday, April 21 from 8am to 6pm.
WHERE:  General area of "the Green" access and Lot 10
WHAT: Wade & Associates (W&A) will be on-site, April 20 & April 21 to conduct a topographic survey for the forthcoming Student Housing project.
The below image illustrates the general area of work where W&A will be conducting their survey – all works is conducted outside.  There will be minimal disruption in accessing Campus facilities for Students, Faculty and Staff. The crew will be wearing high visibility vests and will follow WorkSafe BC practices while on-site.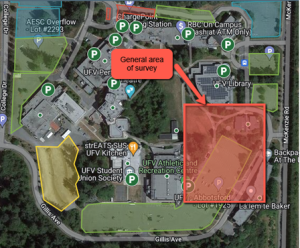 PROJECT OWNER: Denise Brown, Director, Capital Projects – 778.982.0217