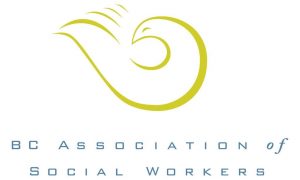 Happy BC Social Work Week March 14-20, 2021!
The essential work provided by qualified, compassionate, and committed social workers benefits all people in Canada. Each March, we celebrate the important contributions social work professionals make to our families and communities.
Video Greetings from Minister Mitzi Dean
Professional Development Opportunities
Free Webinar: The Aboriginal Policy and Practice Framework: A Pathway Towards Restorative Policy and Practice that Supports Aboriginal Peoples' Systems of Caring, Nurturing Children, and Resiliency
Hosted by Thompson Nicola Branch
Tuesday, March 16, 6:30-8:00 PM
BCASW Online Event: Human Trafficking in BC
Presented by Ursula Kerr, MSW, RSW; Eugene Ip, DPhil, MSW; Mitchell Redpath, Human Service Diploma
Wednesday March 17, 6:30-8:00 PM
BCASW Online Event: Staying Apart to Stay Safe
Hosted by the BCASW Thompson Nicola Branch, Presentation by Isobel Mackenzie, BC Seniors Advocate
Thursday March 18, 6:30-8:00 PM
The Canadian Association of Social Workers Award for distinguished service in British Columbia will be awarded to BC social workers in healthcare during this event.
BCASW Webinar: Integrating Structural Theory and Social Work Practice
Presented by Heather Peters, PhD, Associate Professor, School of Social Work, UNBC
Thursday April 15 6:30-8:30 PM
Jack Hirose & Associates Online Workshop: Differential Diagnosis Using the DSM-5: Improving Clinical Outcomes through Clear Assessment & Diagnosis
Presented by Richard W. Sears, PsyD, ABPP
April 14-15, 2021
Need a DSM-5 Update?  Planning to write the RCSW exam?  BCCSW has approved this course. 
BCASW members receive a 20% discount on workshops and online learning offered by Jack Hirose & Associates. Login in as a member to the BCASW website for discount code.
BC SOCIAL WORKERS CELEBRATE SOCIAL WORK WEEK
This year's theme is Social work is essential and emphasizes that social workers are:
Essential to meeting the immediate needs of those carrying the pain of loss.
Essential to those navigating overwhelming uncertainty imposed on peoples' lives.
Essential to addressing the profound systemic racism thrust into the spotlight by the pandemic, and
Essential to advocating to reconcile the economic, health and social inequalities glaringly exposed by not only COVID-19, but efforts to flatten the curve as well.
The Social Work Reference Center 
Set up an account on the CASW site to access member resources
The Social Work Reference Center (SWRC) can help to:
Meet continuing education requirements
• Ensure decisions are made based on the most current evidence
• Refresh users on up to date information around competencies
• Easily access premier social work and medical journals
• Help provide patients with patient information materials
• Provide information on adolescent health, aging, behavioral and mental health, end of life care, clinical social work, diversity and equality and more
New Job Postings
Advertise a position– as a member your receive a $50.00 discount!
Find Us On
Facebook, Twitter & Instagram
BCASW works to support members, strengthen our profession,
and to advocate for social justice. Resources to carry out our work come primarily from membership fees.
If you are not already a member we urge you to support this work by joining BCASW.
~ a benefit to you
~ a benefit to our profession
Join online at www.bcasw.org