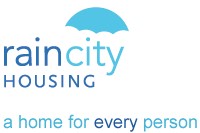 "A home for every person" is a lofty goal. We believe it is 100% achievable and benefits all of us. And we are confident that if we all work together, we can achieve this goal sooner than we ever thought possible.
For more than three decades RainCity Housing has put government funds and generous donor dollars to good use to create, implement, and manage housing and support programs that sustain relationships, strengthen communities and make change for people experiencing homelessness and mental health, trauma and substance use issues, throughout BC's lower mainland. We invite you to be a part of the change.
POSITION SUMMARY
Overseeing program development and implementation of clinical programs, the Director, Clinical Services takes ownership of developing, implementing, monitoring, and evaluating the clinical programs' purpose, principles, policies, and practices.
The Director ensures these clinical programs (currently a Vancouver/Richmond Housing First Assertive Community Treatment Team and a Maple Ridge Housing First Intensive Case Management Team) directly support and are aligned with RainCity's mission, principles, and values. Reporting to the Co-Executive Director, the Director, Clinical Services champions the development of agency wide, high quality, accountable services and supports.
The Director, Clinical Services promotes the interests of RainCity and the people we work with in the community and ensures that programs are maximally integrated and coordinated with other systems of care. Beyond programming, the Director, Clinical Services has oversight of RainCity's medication program.
As a member of the Senior Leadership Team, the Director communicates with a wide variety of people including other members of the Senior Leadership Team, the Board of Directors, staff, union representatives and external agency representatives.
POSITION TITLE: Director, Clinical Services
POSITION TYPE: Permanent Full-Time
DEPARTMENT: Senior Leadership
SCHEDULE: Monday- Friday, 9:00am-5:00pm. Schedule must be flexible to meet organizational needs. Participation in on call schedule of 1 out of every 8 weeks
SALARY: $108,120- $121,634.10 annually, depending on qualifications and experience
UNION: Excluded
LOCATION: 616 Powell St, with limited travel expectations
START DATE: as soon as possible
COMPETITION #: job2020.056
Follow this link for the complete posting and application details.