| | | | |
| --- | --- | --- | --- |
| JOB TITLE: | Child & Youth Counsellor | JOB STATUS: | Full Time, Temporary, 12 months with possibility of extension |
| DEPARTMENT: | Non-Delegated Programs | REPORTS TO: | Team Leader of Resources and Support Services |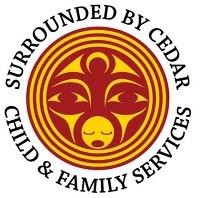 Located on the traditional territories of the Lkwungen People, Surrounded by Cedar Child & Family Services' (SCCFS) vision is of healthy children who will grow up connected to their families, communities and cultures. As an urban Delegated Indigenous Agency, SCCFS is committed to providing child welfare and support services that are rooted in strong cultural values and beliefs while focusing on the enhancement of resiliency in the urban Indigenous community.
Surrounded by Cedar receives its delegation through the Provincial Director of Child Welfare, who gives the agency the authority to undertake administration of parts of the Child, Family and Community Service Act (CFCSA). Under its current delegation agreement, Surrounded by Cedar administers C4 services (Guardianship).
SCCFS strives to be a culturally safe employer, with a keen focus on Indigenous recruitment and retention. While working at the agency, employees will be involved in various cultural knowledge sharing opportunities, activities and ceremonies, while being actively engaged in urban Indigenous community events.
Purpose:
The Child & Youth Counsellor is primarily responsible for providing culturally appropriate individual and group counselling services for South Vancouver Island, urban Indigenous children, youth and their families.
The SCCFS Counselling Department supports children and youth who are impacted by trauma and are experiencing serious emotional, psychological, behavior or psychiatric illness. With an emphasis on culturally-based healing modalities and the restoration of cultural community connection, the Child & Youth Counsellor provides counselling services that include intake, assessment, treatment and crisis intervention. In addition, the Child & Youth Counsellor works closely with the agency's social work and support service staff to support mental health and wellness planning for children, youth and families who are directly involved with the agency.
Working together with local Indigenous agencies, school districts, community partners and the Ministry of Children and Family Development, the Child & Youth Counsellor participates amongst collaborative, multidisciplinary planning teams to advocate and facilitate mental health and wellness goals.
Key Duties and Responsibilities:
Plan, implement and deliver four (4) culturally based group counselling groups per fiscal year for urban Indigenous children and youth.
Provide culturally appropriate and inclusive clinical mental health services, comprehensive assessment and treatment planning based on Indigenous modalities of healing and wellness.
Provide culturally based clinical consultation to the SCCFS social work team regarding urban Indigenous children and youth in care and complete bi-annual mental health caseload reviews of all children and youth in the care of SCCFS.
Act as a behavioural support to birth parents, extended family, grandparents and/or foster parents by providing guidance, consultation and ongoing support and education.
Provide outreach and community-based service, participate at community tables, and attend community forums and events.
Maintain appropriate clinical records and written reports while continuously monitoring and evaluating the overall functionality and success of the SCCFS counselling program.
Financial Duties:
Prepare and submit grant/funding applications while adhering to any reporting requirements.
Maintain program budgets, in consultation with the Executive Director and Finance Manger.
Knowledge, Skills and Abilities:
Knowledge of the vision and mission of SCCFS and how the child and youth counselling program align with these.
Extensive understanding of Indigenous cultures, the history of colonization and the resultant traumatic impacts within Indigenous communities across Canada.
Knowledge of Indigenous protocols, teachings and ways of being with a demonstrated ability to incorporate traditional modalities of healing and wellness into clinical and group practice.
Model or mentor positive cultural influence, knowledge, and Indigenous ways of being.
Demonstrated ability to build and nurture respectful and meaningful relationships with members of the community who may not be trusting of child welfare or mental health systems.
Familiarity with the Child, Family and Community Services Act (CFCSA) and current public reports and recommendations with implications for mental health programming for urban Indigenous children and youth.
Strong written, verbal, time management and computer (Microsoft) skills.
Demonstrated ability to work well under pressure in a fast-paced, high-stress work environment where work priorities change frequently.
Qualifications:
MSW (Clinical Specialization or equivalent training/education), MA in Child & Youth Care, MA (Clinical Psychology) or MA (Counselling Psychology) and have completed a practicum in child and family mental.
Comparable graduate degree at master's level may be considered with at least three years' professional experience in child and family mental health.
Minimum three (3) years of professional experience with demonstrated training in trauma (complex trauma, intergenerational trauma, transition trauma), grief and loss, and attachment issues within an Indigenous context.
Must have experience working with Indigenous clients and communities.
Eligible for registration with the Canadian Counselling and Psychotherapy Association (CCPA).
Must have valid class 5 Driver's License, favourable driver's abstract and safe reliable vehicle.
Must complete a successful Criminal Record check.
Wage Range: $63,500 – $72,500
Preference will be given to applicants who self-identify as Indigenous as per Section 41 of the Human Rights Code.
Your resume and cover letter which outline how you meet the qualifications required for this position can be submitted to the attention of:
Maren Gray, Executive Assistant
Surrounded by Cedar Child and Family Services
#211-1497 Admirals Road Victoria, BC V9A 2P8
Email: maren@sccfs.com  Fax: (250) 383-2509
 Only those selected for interviews will be contacted.
Closing Date: March 7, 2019 at 4:30pm