Ottawa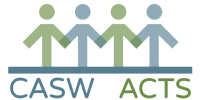 , ON – August 16, 2018 – Today, the Canadian Association of Social Workers (CASW) publishes major research on social workers in child welfare positons across Canada. The paper, titled Understanding Social Work and Child Welfare: Canadian Survey and Interviews with Child Welfare Experts, also paints a picture of child welfare systems in each province and territory, including information relating to different jurisdictions' efforts towards reconciliation.
"We launched this project because we had so many stories, so much anecdotal evidence, about the issues surrounding child welfare in our country," said CASW President, Jan Christianson-Wood. "Not only the reports of burnout, PTSD, and huge caseloads impacting social workers' practice, but also about critical system issues contributing to situations such as the overrepresentation of Indigenous children in care."
The research took two main forms: a nation-wide, bilingual survey completed by more than 3200 social workers, as well as interviews with child-welfare leaders and experts from different jurisdictions.
"The research is incredibly powerful – both in confirming some of our assumptions about the profession, as well as revealing some surprises," noted Christianson-Wood. "For instance, there's this impression that it's hard to retain employees in child welfare positions, or that social workers only work in child welfare at the beginning of their careers – but our research found over 60% of social workers in child welfare positions have over 10 years of experience in the field."