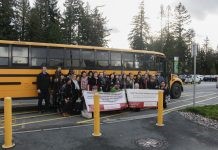 Original article taken from The Cascade, November 16, 2016
Freedom Riders Rally
A freedom ride left from UFV on Tuesday morning to protest the defunding of the only HIV / AIDS and hepatitis C services centre within the Fraser Valley — a cut that leaves anyone east of Burnaby affected by these diseases lacking for support.
The "freedom ride" bus, once a staple of civil rights activism, most notably in the American civil rights movement, carried supporters to visit local MPs and MLAs to demonstrate their concern for the program defunding. Riding on the bus were UFV social work and human services students, members of Positive Living Fraser Valley (PVFV), as well as community members.
At each MP and MLA office, handwritten letters of advocacy from both the students as well as faculty at UFV were presented by the group; the offices were not made aware of the surprise appointments. Mike Zonta, a UFV social work student organized the ride as a statement to local government.
"In social work, every instructor that I have gone through over the last four years has spoken on advocacy being a part of social work," said Zonta. "So this opportunity arose and here we are. Even though we all have busy schedules we managed to get together today to send a message."
The organization being de-funded, PLFV, is a hepatitis C, HIV, and AIDS support service — a non-profit charity and outreach organization. They offer services for HIV, viral hepatitis, TB, and sexually transmitted bloodborne infections as well community support for their members.
With the defunding of the program comes a major loss of services such as food banks, free lunches, medical, social, and community support and education.
Janet Wilson is a member of PLFV and has been since it was first established over 10 years ago.
"I volunteer two days a week because I tend to isolate myself otherwise," said Wilson. "HIV itself creates depression, so I try to avoid it by volunteering and also being looked after … I don't know what I'd do without them, I really don't."
PLFV provides services from Langley to Boston Bar, and if the non-profit society loses its funding, anyone currently receiving support — about 900 individuals — would need to look for support in and transportation to the Greater Vancouver Region.
The remaining AIDS services organization in Surrey also faces defunding.
Keri Hackett, the executive director of PLFV originally brought the concern to UFV. Hackett contacted the university to request an impact letter of support for the organization.
"It's a very time sensitive issue because of the catastrophic damages that will be done to marginalized individuals who count on these services," said Hackett. "We are actually asking for an immediate halt to the current process and that they take the time to review what went wrong … and how was it that every major AIDS organization failed to meet the government's criteria."
The issue arose this last year when a new call from the federal government through the Public Health Agency of Canada (PHAC) went out to organizations that provide "prevention activities," requiring these organizations to submit a letter of intent to PHAC for continued funding. Approval of the letters of intent would mean the organizations would then be permitted to submit contract proposals.
Previous to the new funding model, PHAC's HIV and Hepatitis C Community Action Fund funded 124 organizations. This year, 45 organizations that had previously relied upon PHAC funding were not invited to submit full proposals.
"Although this directly affects the Fraser Valley leaving it no services at all, it is a national crisis," said Hackett.
Most of the agencies being defunded are long running support centres, some of which have provided community support for over 25 years. Despite PLFV's long standing ability to provide services to the Fraser Valley, they were denied the opportunity to submit a proposal.
"PHACs answer was that we did not write viable letters. We questioned, 'How could 45 agencies that have years of experience writing proposals have all failed?'" said Hackett
Concern was raised by members of the defunded organizations because of a perceived deficit in services to widespread regions. With the new funding comes a blackout to the entire British Columbia interior. Even across the country, some of the most experienced organizations were the ones to lose funding.
"Most of the new agencies that were allowed to go forth to write the formal proposal are agencies that have never done HIV or hep C services before and a lot of them are working with Syrian refugees," said Hackett. "Not that there's anything wrong with that but our question is shouldn't that be a separate lot of money, part of the refugee integration plan?"
"The Fraser region, and in particular Abbotsford, has the highest rates of hepatitis C in all of British Columbia by quite a bit," said Hackett. "We also have one of the highest overdose rates."
In addition to their support services, PLFV has often hosted practicum students from UFV, the cessation of funding will put an end to practicum placement for social work students interested in this fieldwork.
"As students, these organizations, and in particular Positive Living here, provide an opportunity for us to have real boots on the ground and to interact with our community," said Roger Tourand, a student in the social work program at UFV. "These organizations provide that learning space and that's an important local contextualization to the work that we plan to do in our future and in our career."
Tourand was one of more than 30 people that participated in the freedom ride.
"Today, I saw a lot of engaged students and community members joining together collectively to present our issue to these members and hopefully we'll get a follow up and some traction and movement on those issues that we have found," said Tourand.
The impact letters delivered on Tuesday were a symbol of protest and solidarity. Mike Zonta and Kari Hackett will follow up with meetings with the MPs and MLAs.
On December 5, the group will host a roundtable event at the Student Union Building on UFV's Abbotsford campus for the community to learn more about the defunding and engage with their community.
"I have high hopes that something positive will come out of this no matter what, whether it's government funding or new funding, we'll see, but I do have high hopes that Positive Living will have a future in the Fraser Valley," said Zonta.