Dr. Geetanjali Gill, Assistant Professor in UFV's Global Development Studies (GDS) program and fourth year GDS student Holly Janzen have both been selected by the British Columbia Council for International Cooperation (BCCIC) as delegates to the United Nations Commission on the Status of Women (CSW) event this month. This year's event is focused on gender-based violence, empowerment of women, women's participation in public life, and youth advocacy for gender equality. More information on BCCIC's delegation to the UN can be found here: https://www.bccic.ca/announcing-csw65-delegation/.
In recognition of the CSW event and International Women's Day, Dr. Gill and Holly have written thought-provoking pieces exploring advocacy, leveraging privilege, and contributing to positive change in the world.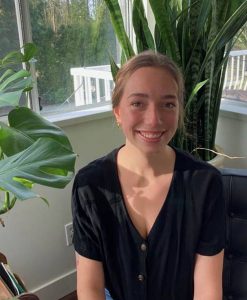 As I near graduation, I spend a lot of time considering what I want to pursue after I graduate. Throughout my studies I have found a passion in advocating for gender equality and a sustainable future for all people. It is important for me to consider my positionality when I am in these spaces of gender advocacy and other social justice movements. As a settler of Dutch and German ancestry on stolen land, I acknowledge the privilege that I, as a white woman, hold. It is my hope that I can leverage my privilege in ways that can uplift those around me. Space needs to be made for marginalized voices when it comes to decision and policy-making. A decolonizing, anti-racist, co-creative mindset is essential in moving towards a more equitable and sustainable future.
I clearly remember thinking, when I was first introduced to the topic of gender equality, that it was a very radical act to insert oneself into these kinds of spaces and to be vocal and adamant about issues around gender equality. I empathize with my past self, and the uncertainty that I had around entering these kinds of spaces and being vocal around these issues. I believe that it is so important to lift up and empower the women around us so that everyone can feel liberated to speak and advocate on the behalf of gender equality and women's empowerment. It is important for people to understand that gender equality will not only improve the lives of women and girls, but it will improve the lives of all people. It is my hope that in attending CSW I am further inspired to advocate for gender equality in whatever space or capacity that is available to me. I also hope that CSW provides me with new knowledge and tools that are necessary for contributing to impactful, and positive change.
I have had some exciting opportunities throughout my university experience, especially within the past year, that has ignited a new excitement for my future. I now am not so much fearful of the unknown as I near graduation, but am instead invigorated by the vast amount of possibilities that my future may hold. Among these opportunities, is the opportunity I have had to work as an intern with BCCIC directly under their Policy Director & Gender Specialist. I am currently assisting in the organization of this year's delegation for the U.N. Commission on the Status of Women. I am so thrilled to be attending the CSW65 conference amongst such an amazing and inspiring group of people. I am especially encouraged by the youth that have been included in this delegation. Including youth voices is so meaningful and important when advocating for gender equality, as well as other social justice issues, as youth voices provide hope and promise for the future of our society and our planet.
In the very short amount of time that I have spent with BCCIC, I have had the opportunity to meet and have conversations with people who are immensely experienced and knowledgeable in the field of gender equality and development. It is an absolute inspiration to learn about the experiences of my fellow delegates and how they have uniquely advocated for gender equality throughout their lives. Being included in this year's delegation has been energizing.
Something that has really piqued my interest while studying global development is the intersection between women and the environment, and specifically how women are impacted by climate change. There are a variety of intersecting factors that leave women more vulnerable to climate change than men. Some of these factors include a lack in access and control over resources, access to education, and access to decision and policy-making processes. The theme for this year's delegation is 'Women's full and effective participation and decision-making in public life, as well as the elimination of violence, for achieving gender equality and the empowerment of all women and girls.' As climate change intensifies, so does the amount of gender-based violence that takes place on a global scale. Gender-based violence is commonly used as a "systemic means to reinforce existing privileges and power imbalances over roles and resources." As resources become more scarce and land becomes increasingly inhabitable, women are put at higher risk of experiencing gender-based violence. This is why addressing gender-based violence alongside ensuring the full and effective participation of women is so critical in this year's conference. Women need to be given a platform to speak on these issues and share their experiences and knowledge on how to combat them. While gender-based violence is not the only problem that has been exacerbated by climate change for women, it is one of utmost relevance to the theme for CSW this year. Ultimately, women experience the impacts of climate change more severely than men in multiple ways for multiple reasons.
For the reason that women experience climate change more intensely than men, they also hold unique insights and perspectives into how climate change can best be mitigated. I believe that achieving gender equality and women's empowerment, as well as the solutions to climate change are all closely related and interdependent on one another. Women have continued to be put in marginalized positions throughout history, and the fight for gender equality and against climate change will only succeed if these movements are advocated for throughout many different spaces and contexts.
It is essential that we adopt an intersectional gender lens when addressing issues of gender equality so that all factors of identity and marginalization are considered. In order to ensure the health of our planet for the future, women must be empowered to take a leading role in climate mitigation and climate justice. I believe that women of all identities must be given platforms to share their knowledge and lived experience, and I believe that the movement towards gender equality will never be fully reached but instead is a fluid and always-progressing movement. There will always be more to be done and new heights to aim for. I look forward to seeing what the future holds and how we can transform it.
Holly Janzen