UFV Students and Faculty will soon experience a mobile-friendly, upgraded experience when visiting Faculty Centre and Student Centre via myufv.ca.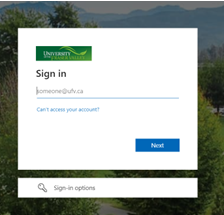 The upgrade is part of the Banner 9 project and will take place on September 6, 2022.  Faculty and Students will continue to log on to myufv.ca as normal but they may notice a change in the look and feel of select services. Within myufv.ca, services that have been upgraded will require Students and Faculty to log on a second time using their UFV email and password. ‌
New for Students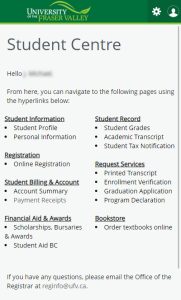 Most parts of the myUFV Student Centre are now mobile-friendly.  You are also able to indicate a preferred name, if you have not already done so, in the Personal Information section.  For some services, you will be asked to sign on a second time using your UFV email and password while we continue to upgrade other parts of the system.
New for Faculty
Export and print your Class List seamlessly, import your student grades from Excel, and use Student Card to view the student profile, grades, and Attendance Tracking.

Visit ufv.ca/banner9 to learn more about this upgrade and the new features.  We welcome your feedback regarding the information and support provided, contact the Banner 9 Team via email.