Coming on June 29 2022. myClass (Blackboard Learn) will move to an easier to use, mobile-friendly view. Base Navigation offers a new way to navigate your learning environment that will save you time and help you keep track of what's most important. Its sleek, personalized interface enables instant access to the information you need. It highlights what's new and what's due.
Feature Favorite: Get push notifications on your phone alerting you to what's due—whether you prefer your reminder the day before or 10 days in advance!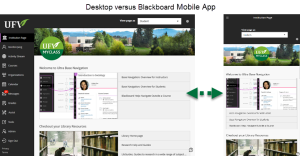 Visit: https://www.ufv.ca/myclass/ultra/ for more information and download Blackboard Learn mobile app. Downloading the app is a great way to get a headstart on the new MyClass features:  Google Play | App Store.