UFV's cybersecurity team has seen an increase in fake browser update warnings. These pop-ups have appeared in Chrome but may also appear in other browsers such as Firefox or Edge. Clicking the link in this popup will lead to malware. If you see a request to update your browser, do not click it. UFV employee and student computers are set to update your browsers automatically.
An example of one of these fake pop-ups is shown below.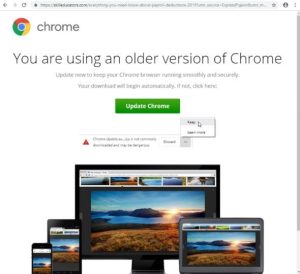 Questions?
If you have further questions or concerns, please contact the IT Service Desk.