Information Technology Services is pleased to announce the launch of our new IT Service Portal on July 06, 2020.  This new portal will greatly enhance our ability to serve UFV in a timely and effective manner.
The new system is a product called TeamDynamix, an IT Service Management (ITSM) platform that supports universities and colleges all across North America to implement IT services best practices.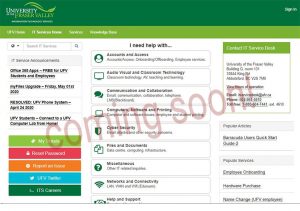 The 1st phase of portal deployment will replace the functionality of our current eHelpDesk IT ticketing system and our ITS information webpages. Further phases will include advanced problem management, major incident management, change management, asset management, and portfolio and project management functionality.
The new web-based, self-service portal will provide employees and students with:
over 25 common service requests in our service catalogue
seamless submission of incident and service request tickets
full visibility into the status and history of submitted tickets
access to over 100 Knowledgebase articles
access to the web-based, service desk portal when studying and working remotely
ability for employees to sign in using their UFV login account
ability for students to self-register using their single sign-on credentials
We will be hosting a HR Learning Series workshop on July 09th, 2020.  Details regarding the session date and how to register will be included in upcoming Learning Series communications from HR.  These sessions will be recorded and shared for those that cannot attend a live training session.
Our new Self Service Portal will now be our preferred method of submitting incident and service request tickets, rather than an email to ITServiceDesk@ufv.ca.   Submitting a ticket online will allow us to expedite service request fulfilment, as authorizations and all required information will be gathered at submission.  Our new ITSM system will be accessible via our current website, ufv.ca/its or itservicedesk.ufv.ca.
Visit IT Services Blog for updates and to learn more about our new IT Service Management system.
Still need more info?
If you have any questions, please contact the IT Service Desk at itservicedesk.ufv.ca, email itservicedesk@ufv.ca or call us on local 4610 or 604-864-4610.