March 31, 2020
What do I need to know?
Bluejeans is currently experiencing an issue with scheduled meetings not joining and failures in scheduling.
What do I need to do?
While Bluejeans continues to address the scheduling issue, please use your personal meeting ID which is always available, to create/join meetings.   After logging on to Bluejeans, you can find your personal meeting ID on the left menu, select Copy URL and share with participants: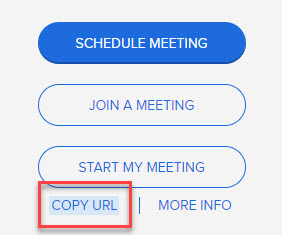 Still need more info?
If you have any questions, please contact the IT Service Desk at itservicedesk.ufv.ca, email itservicedesk@ufv.ca or call us on local 4610 or 604-864-4610.