IT Services will be upgrading Banner INB (Banner Forms) server and your workstation on August 13-14, 2016.
Your workstation will be updated as of 7AM Monday, August 15 with the following:
New green coloured Banner icons pointing to Banner and Banner reports
Internet Explorer 10
Java 8.51
Users may see a Java warning message when launching Banner forms, processes, or reports: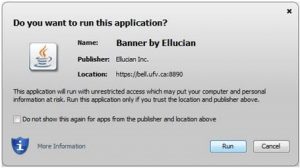 Please select "Do not show this again" option and click Run.  There is no security or personal information risk. We are actively working with Ellucian on resolving this.
If you encounter any other Banner issues after this upgrade, please contact IT Service Desk:
Phone: 604-864-4610
Email: itservicedesk@ufv.ca
Web: itservicedesk.ufv.ca
Location: Abbotsford B241