Ana Adamik, a 15-year veteran of the Canadian Armed Forces, has been named Director of the AVP Indigenous office. Most recently, she was the executive assistant to the UFV Office of the Vice-Provost Academic, a position she has held since 2020.
As director, Adamik will be responsible for helping raise the profile of the AVP Indigenous office, recruiting and supporting Indigenous students, and strengthening the relationship between UFV and the Indigenous communities. Adamik started her new role in December 2022.
"I am excited and looking forward to working with and learning from Ana Adamik," says Shirley Hardman, Associate Vice-President, Indigenous. "Ana brings a youthfulness to the office together with a heartfelt desire to move the university to a place of Reconciliation in all that we do."
"I feel honoured and humbled to be in a position where I can support Indigenous students at UFV and grow our visibility around the community," says Adamik. "UFV has deep ties to the Indigenous communities whose lands we reside upon, and I have always felt a connection to Indigenous peoples."
Ana, who is of Indigenous descent, was born in Costa Rica. Her family moved to the Lower Mainland when she was five. As a child and teen, she developed a curiosity and empathy for Indigenous culture through school and visiting the Museum of Anthropology at UBC.
"Growing up, I was always mistaken as an Indigenous person from a First Nation in Canada, and I would always get asked where I'm from and for my status card," says Ana. "Having that little bit of exposure into how Indigenous people can be perceived or treated allowed me to connect with them."
In 2001, Adamik joined the Canadian Armed Forces to travel the world, experience different cultures, and protect Canadians and civilians globally. A few months later 9/11 happened and it reaffirmed her desire to serve others.
In her 15 plus years of military service she worked in the areas of leadership, recruitment, finance, and community engagement, including liaising with Indigenous communities in BC. She also helped coordinate clinical deployments to remote Indigenous communities when she worked with the Provincial Health Services Authority (PHSA).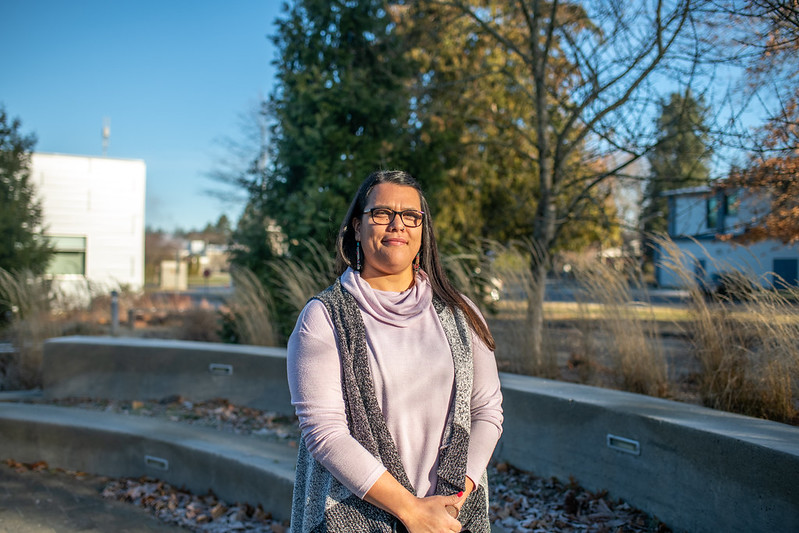 Adamik  left the military in 2016 to pursue her master's degree in tourism management from Royal Roads University. In 2020, she had planned to visit Costa Rica to conduct research projects focused on educating visitors and hosts of the origins of the land, but the trip was cancelled due to the global pandemic. That unfortunate timing ultimately led her to UFV in 2020, where she made an immediate impact in the university as an executive assistant in the Vice-Provost Academic office.
"In this role, she has liaised with internal departments to ensure policies and procedures are executed, while building relationships with Indigenous communities and partners, Elders, and Knowledge Keepers," says Tracy Ryder Glass, Vice Provost Academic.
At UFV, Adamik was able to leverage her organizational and problem-solving skills she acquired from the military. As a recruiter in the Canadian Armed Forces, she often assisted teenage Indigenous prospective recruits. Those experiences motivated her to apply for the Director, Indigenous role in the AVP Indigenous office.
"One thing I have learned in my experience is the importance and the power of open communication," Adamik says. "We have to ensure that we are understanding the needs of Indigenous students and communities. We want them to feel at home at UFV."
Ana lives in Chilliwack with her husband, parents, two children, and two dogs. She is an avid cyclist, and regularly rides the Vedder River Trail.