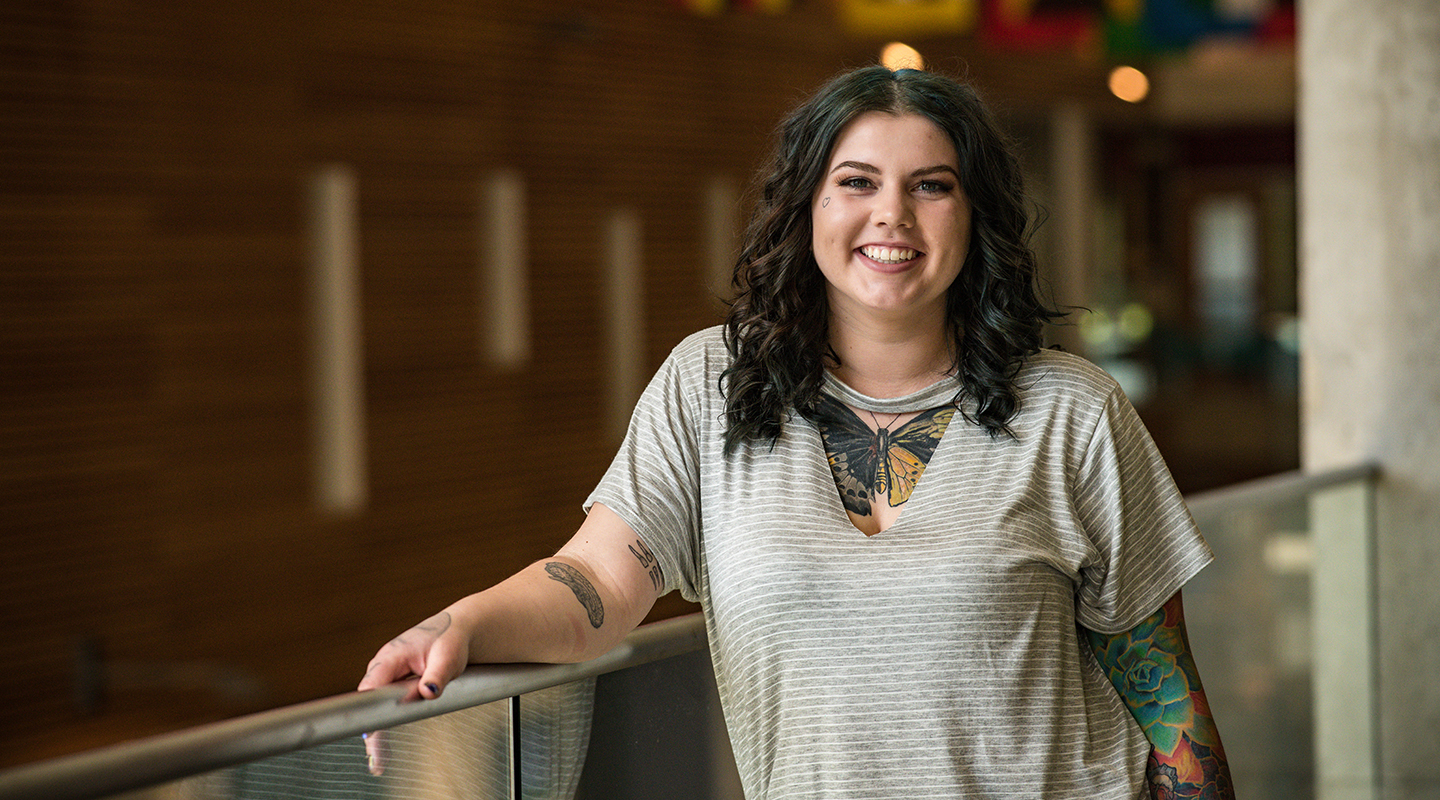 Flora Oswald has tattoos on her face and chest, dropped out of high school at age 16, researches sexuality in a traditionally conservative market, changed her name this year, finished her four-year degree in three years despite suffering a serious brain injury, and ended up with a perfect 4.33 GPA on her last 30 credits to earn the Governor General's Silver Medal as UFV's top graduate from a bachelor's degree program.
She isn't your average student.
It will be exactly 1,000 days from Oswald's very first class at UFV to the moment she crosses the convocation stage June 5. She finishes her bachelor's degree with a major in psychology honours and minor in sociology.
"I just wanted to get it done by the time a normal person would've got it done if they'd finished high school and gone right into university," she explains. While her goal remained the same, her name changed three months ago to Flora Everest from Erin Cally.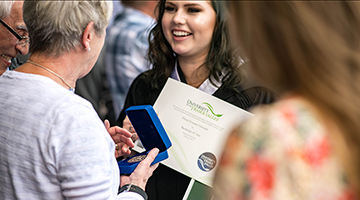 "It's a better reflection of who I am, and I wanted it done before I graduated and started getting published," she says.
The daughter of professional cyclists living in Sherwood Park, Alberta, Oswald lost interest in school by the age of 16. A few years later her step-dad and mom moved to Mission, and Oswald visited a friend at the University of Victoria. She liked the university atmosphere, so enrolled at the nearest institution — UFV.
"I don't know if it's what I expected it to turn out like," she says of her experience, "but it's definitely what I wanted it to be."
A gifted learner from an early age, Oswald chose psychology "for no particular reason" after reading one book on the subject. She quickly found her passion in the study of sexuality, leading to three directed studies in addition to her honours project.
She was cruising through classes with an A-plus average when suddenly everything she'd worked for nearly disappeared. While waiting at an intersection, a pickup truck plowed into the back in her beloved Ford Mustang. In addition to other injuries, Oswald suffered a serious concussion.
"Everything was going fine, great grades across the board, then suddenly I couldn't do anything for two months," she said.
"Absolutely nothing. It was … brutal."
Sleeping her days away in a dark room, Oswald promised to finish what she'd started — on time. After two months she returned to UFV while also getting back to kayaking, hiking, and hanging out with friends.
She credits peers who frequent the Student Psychology Association, and a solid stable of inspiring professors for her return to academic success.
"One of the biggest things that I'd recommend to other students striving to succeed is to have good relationships with faculty. I see so many students who don't drop by for office hours; our professors are more than happy to help those of us who ask for it."
Specifically, Oswald points to Wayne Podrouzek, Alicia Horton, and Sven Van de Wetering, who she calls "the model in my mind about intellectual humility and patience."
Aside from her work at UFV, Oswald is currently researching under the tutelage of mentor Dr. Cory Pederson at Kwantlen Polytechnic University's Observations and Research in Gender and Sexuality Matters (O.R.G.A.S.M.) Lab.
She concedes that the topic of sexuality isn't always intellectually embraced, particularly in social circles when meeting new people, especially young men.
But she's undeterred, saying, "I've found the thing I want to spend my whole life doing."
She hopes her next step is leapfrogging into a PhD program with Australia's Curtin University.
"They have one of the best sexology programs in the world."
Oswald's ultimate goal is to work in the post-secondary system, teaching and researching sexuality.
She's off to a good start, having developed a new UFV course on the psychology of critical thinking under the guidance of Van de Wetering.
Her work, like her tattoos, are close to her heart — which themselves are literally tattoos on Oswald's right arm and near her right eye.
Her ink includes the words 'Stay Gold' across her knuckles, a large colourful bilateral gynandromorph (an organism containing both male and female characteristics) on her chest, and a small psychology symbol on the middle finger of her right hand, plus many, many more.
Her next planned tattoo? Freckles tattooed onto her face.
"I just like it," she says.
"I guess I kind of do things my own way, and so far it seems to be working out alright."
-30-